How Mold Growth Affects Home Air Quality
Posted in Mold Removal, on September 14, 2023
---
Mold is a tenacious intruder that can quickly wreak havoc on your indoor air quality, potentially leading to a variety of health concerns. Indoor air quality is vital to maintain, but it can be quite a challenge. Mold is one of the most common contaminants found indoors and is often at fault for changes in air quality at home or in commercial buildings. If you suspect a lingering mold break is affecting your property, don't wait to contact the IICRC-certified experts at Canada's Restoration Services for mold removal in Toronto. From basement to attic mold removal, learn what to expect from mold and its impact on your indoor environment.
How Do Mold Outbreaks Spread?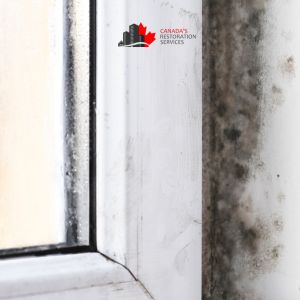 Mold is a silent, relentless intruder that can find its way into your home through various avenues. It thrives in environments with moisture and warmth, making damp areas prime breeding grounds. Common culprits include leaky roofs, plumbing issues, or inadequate ventilation. Once it takes hold, mold reproduces by releasing tiny spores into the air, spreading and seeking new surfaces to colonize. This airborne dispersion can quickly escalate the scope of an outbreak.
What Are Mycotoxins?
Mycotoxins, toxic substances produced by certain molds, add an additional layer of concern. When mycotoxin-contaminated spores are inhaled, they can pose a severe health risk. These toxins have been associated with various health problems, from respiratory issues to neurological symptoms, making mold removal in Toronto an imperative task.
Health Effects of Mold Exposure
The health effects of mold exposure can vary from mild to severe, with symptoms ranging from sneezing and congestion to more severe respiratory issues. Prolonged exposure can even lead to chronic health conditions. Vulnerable individuals, such as those with allergies, asthma, or compromised immune systems, are particularly at risk. It's crucial to be vigilant about mold outbreaks with mold inspections, remediation, and restoration to protect you and the people around you.
Rooms Where You're Most Likely to Find Mold
Mold doesn't discriminate regarding where it can thrive in your home. However, some areas are more prone to mold growth than others. Bathrooms, basements, and kitchens are frequent offenders due to their higher humidity levels and lower ventilation. But don't overlook less apparent spots like crawl spaces and attics, where mold can quietly multiply and directly impact your indoor quality, necessitating attic mold removal in Toronto. If you see visible signs of mold or smell its distinct odour, contact Canada's Restoration Services for complete mold removal services.
The Importance of Attic Mold Removal in Toronto
When considering mold removal costs, it's essential to prioritize attic mold removal in Toronto. Attics are susceptible to mold growth due to poor ventilation, roof leaks, or inadequate insulation. Ignoring attic mold can lead to compromised structural integrity, escalated mold issues, and a considerable decline in indoor air quality. Addressing attic mold promptly safeguards your home and ensures a healthier living environment.
Protect Your Indoor Air Quality with Canada's Restoration Services
Give your home the attention and care it deserves with mold removal services in Toronto. With the help of expert services from Canada's Restoration Services, you can preserve your indoor air quality for a healthier future and home. Get started on your journey to mold-free living.