How Leaks Can Lead to a Flooded Basement
Posted in Flood & Water Damage, on September 06, 2022
---
A lot of the time, a flooded basement is entirely unexpected. It isn't until you head downstairs and see the water moving downstairs that you realize there is a problem. Water damage, especially flooding, is really difficult for homeowners. Dealing with insurance and orchestrating water damage restoration is stressful, time-consuming, and costly. Typically, property owners would rather prevent basement flooding, to begin with. While that's not always possible, understanding the cause of leaks can help minimize their occurrence.
When the inevitable leak does occur, contact Canada's Restoration Service for IICRC-certified water damage restoration services. Our team will respond to your flooded basement cleanup in the Greater Toronto Area within 45 minutes of your call.
Want to know how basement leaks happen? Read on.
Where Do Leaks Come From?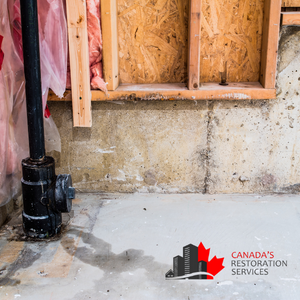 Most leaks affecting your basement come from a pipe that is supposed to be distributing water to a specific fixture. When there is a problem with the pipes that bring water to your home or drain water away, a leak can form and cause a flooded basement.
Burst Pipe
A burst pipe is sudden and causes water to flood the affected space quickly. In Toronto and most of Canada, a burst pipe is usually the result of extreme cold temperatures. When the temperature drops during the colder months, the water inside freezes, stopping the movement of water and increasing pressure on the pipes, which in turn, causes the pipes to burst and water to spray out.
Burst pipes can also be caused by clogs in the drains that expel water from your home. Pouring grease down your drain or flushing objects that should be disposed of in the trash can create a blockage in the pipe, causing wastewater to back up and crack or burst the drain pipes. Water that floods your basement as the result of a burst drain pipe can be contaminated with harmful viruses and bacteria. As such, it's best handled by trained restoration services whose technicians have the equipment and knowledge to safely approach basement flood cleanup.
Appliance Leaks
In many homes, the washing machine is stored in the basement. Those with finished basements may also have full bathrooms installed. Water is required for washing machines, sinks, showers, and toilets to operate, but when something goes wrong, like a clog, water will back up and flood the basement.
Laundry appliances can leak because of manufacturer issues, installation mistakes, or wear with the door, seal, or water inlet over time. Overfilling your washing machine's drum and leaving it to run may also cause the water inside the appliance to overflow and infiltrate the basement.
Foundation Cracks
The final common way leaks can lead to a flooded basement is through foundation cracks. Cracks in the foundation of your home let water from outside into your basement, which is a problem during wet and extreme weather such as rainstorms, heavy snowfall, or simply in the spring when snow begins to melt.
Water Damage Restoration
When leaks cause your basement to flood, don't stress, Canada's Restoration Services will help. With over a decade of experience, we will be respond in the Toronto area less than 45 minutes after your call.
Call Now for Basement Flood Cleanup