How Fast Does Water Damage Affect Your Home?
Posted in Flood & Water Damage, on July 18, 2022
---
Water damage in Toronto is frustrating and typically a burden to everyone in your home, especially as it gets more severe. Acting fast is crucial to ensuring the restoration process goes as smoothly as possible. An urgent water damage repair or basement flood cleanup will also better protect your property in the first place. Since water damage will ruin your home in less than 24 hours, it's ideal to call an expert for a basement cleanup or any other areas affected by water damage. Whether dealing with a leaky pipe or a flooded basement, the professionals at Canada's Restoration Services are equipped with the tools and experience to remediate the affected area so you can go back to living comfortably. 
Continue reading to learn more about water damage in your home.
The First 24 Hours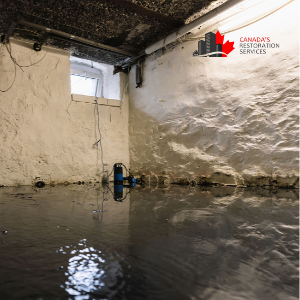 Almost everything that comes in contact with the water will experience some extent of damage. While some items will need to be disposed of entirely, the right restoration company will help you restore as much as possible following water damage in Toronto. 
The wooden doors, drywall, window frame, and furniture may swell, and paint/wallpaper will peel, impacting your electrical system. If the leak is coming from your roof, it could cause damage to the wooden beams and insulation, which causes a concern for mold growth. Finding a solution within the first 24 hours after water damage is extremely important. When left for days or longer, it can cause serious harm to your home, furniture, and health. The major structural components of your home, including your framing, walls, roof, and foundation, can all become damaged since time is of the essence. Canada's Restoration Services are trained technicians that can solve your water damage problems. 
The Amount of Flooded Water 
Though any water in your home can cause damage and mold, the more water the greater the risk. Water spreads extremely fast and absorbs into floors, walls, furnishings, and other parts of your home within hours. 
Water Damage & Contamination
Mold is the biggest concern when it comes to flooded water. Since mold and mildew thrive with water damage, they can hide behind walls and in difficult-to-reach areas, forming in less than 24 hours. When you experience a sewage backup in the basement and need basement flood cleanup, the situation is even more dire, because the water is often filled with germs and bacteria. 
Contaminated water and high water levels need to be cleaned by experienced professionals to safely navigate the hazards and adequately remediate your home. If you put off reaching out to insurance and getting the water damage cleaned up, you may not be covered, and the price to solve the problem will be costly. Finding a restoration company that offers 24/7 emergency services is your best option for preserving your home and belongings. Don't wait to call - every second counts. 
What Should You Do If Your Home Has Water Damage?
Suppose your home has water damage in Toronto. In that case, you should first call a trustworthy water damage restoration company to help with your flooded basement cleanup or any water damage cleanup needed. A reliable restoration company will identify the leak and contamination to provide you with 24/7 emergency cleanups, mold removal, and remediation services. Canada's Restoration Services is your top choice for credible water damage cleanup in Toronto. Our team offers free to low-interest rates so you can remediate your home without paying enormous upfront costs. 
We promise to be on-site within 45 minutes to start working on getting your home back to normal with the least amount of stress possible.
Contact us today for water damage cleanup in Toronto.