How Employees Benefit From Commercial Disinfectant Cleaning
Posted in Commercial Cleaning, on October 19, 2021
---
Having a welcoming work environment is an essential part of having a successful business, and part of that environment is the employees. Employees value a positive and fresh atmosphere to work in, and a commercial cleaning company can help achieve that. Regularly scheduled commercial disinfectant cleaning plays a vital role in keeping your team healthy so your operations can continue without a hitch. Enabling a clean and fresh work environment directly impacts employees and results in greater customer satisfaction and retention.
Here are four ways consistent commercial disinfectant cleaning can boost your employee experience.
Boost Productivity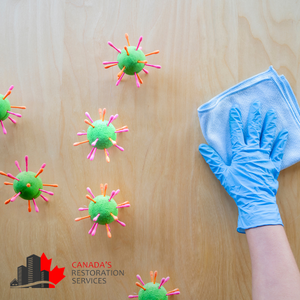 A clean, comfortable work environment helps employees with task management, efficiency, and even collaboration. Less clutter, sanitized surfaces, and improved air quality all facilitates better focus, relaxation, and comfort, while reducing distractions and interruptions which are all essential when it comes to being productive.
Additionally, when employees know that a commercial cleaning company is coming in regularly, they don't have to worry about doing a deep clean of their own. Of course, employees can clean as they go, such as disinfecting high-touch areas or sweeping, but it's not something they need to worry about. Instead, they can focus on valuable tasks and assisting customers.
Decrease in Sick Days
It goes without saying that a clean and thoroughly disinfected work environment is critical in presenting viruses and sickness, especially the common cold during those harsh winter months.
Businesses that don't schedule regular visits from a commercial cleaning company often see more germs present in the workplace, resulting in more absences and lower employee productivity which can be costly and hurt the customer experience. Poor indoor quality can sneak up on property managers, resulting in a range of negative health effects. Several contaminants swarming the air can lead to employees feeling ill, rundown, or trigger allergy symptoms. No matter how well your business is run, superb air quality is essential to your employees' health and wellbeing.
Thorough and complete commercial cleaning is incredibly important, especially in break rooms, bathrooms, and offices. With the support of our trained and certified team at Canada's Restoration Services can conduct advanced commercial disinfectant cleaning with high-grade equipment to guarantee that everywhere is sanitized.
Improved Morale Among Employees
Good morale among employees plays an important role in helping a business succeed. You can achieve better morale with a comfortable, clean, and fresh work environment. A reliable commercial cleaning schedule that employees are aware of, shows your team you care. When employees feel valued, work ethic, brand, and profitability are all elevated.
A Safer and Stress-Free Environment
With the COVID-19 pandemic still present in our lives, commercial cleaning gives employees coming into the office peace of mind and security knowing that their workplace is doing something to prevent the spread. Commercial cleaning, even just one time, reduces the risk of cross-contamination of germs and viruses, minimizes the chance of temporarily closing due to COVID-19 disruptions, and makes employees feel safer about going into work. From mold removal in Toronto to asbestos inspections, we're your go-to experts for clean and healthy workspaces.
By hiring Canada's Restoration Services to be your commercial cleaning company, we can guarantee that every inch of your business will be thoroughly sanitized.