How Does Mold End Up In Your Attic
Posted in Mold Removal, on April 06, 2023
---
As frustrating as it is, attic mold is a problem that occurs quite frequently for homeowners in the Greater Toronto Area and throughout Toronto. Most of the time, people don't even realize they need attic mold removal in Toronto until infestations become widespread. This is typically because attics are out of the path of everyday life, which can leave mold colonies undisturbed and free to multiply. Besides mold removal in Toronto, the best way to prevent mold infestations in the attic is to understand how and why mold spores are even in your attic to begin with. When the inevitable outbreak strikes, contact Canada's Restoration Services for IICRC-certified remediation and restoration services in the Greater Toronto Area and affordable mold removal costs.
Read on to learn how mold ends up in your attic.
Mold Spores in the Attic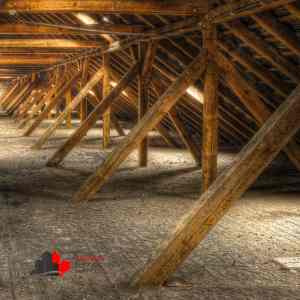 All infestations start from mold spores which will typically enter the attic through openings in the roof or from the property's interior. Mold is a type of fungus that exists naturally in the environment and comes in various species. In fact, over 500 species have been discovered in Toronto, all with slightly different properties. These spores cycle through the air and end up inside, where they can become trapped where there is insufficient ventilation for the spores to escape. Mold will also settle indoors when it comes into contact with the conditions it needs to replicate and expand.
Moisture & Attic Mold
While there shouldn't be much moisture in the attic, water tends to find its way in by way of leaks, humidity, or even poor bathroom ventilation. When moisture enters the attic, it is as little as 24-48 hours before mold starts to grow and take over the space. When mold occurs as a result of moisture, prompt and professional mold removal in Toronto is of the utmost importance. The sooner you can bring in a trained restoration company in Toronto, like Canada's Restoration Services, the better you can protect your insulation and attic and the more you can minimize your attic removal costs. Typically, you can keep an eye out for moisture by looking for leaks in your ceiling or damage to your roof.
Cellulose & Organic Materials
Attics are usually brimming with organic materials. From wood to insulation, these materials act as a food source for lingering mold spores looking to grow and expand their takeover. While insulation is a must-have for attics, you can help prevent future outbreaks and the need for repeat mold removal in Toronto by investing in mold-resistant insulation. Wood in the attic can contribute to the quick spread of mold as well.
The Best Mold Removal in Toronto
When you notice the signs of mold around your home, whether it's a foul earthy odour, water damage stains on your ceilings, or illness in your and your loved ones, Canada's Restoration Services is here to help. We provide attic mold removal in Toronto to help you refresh your indoor air quality. From inspections and testing to remediation, we'll get the job done right.