How Climate Change is Affecting Your Home
Posted in Flood & Water Damage, on June 17, 2022
---
While water damage in Toronto isn't new to property owners throughout the city, the frequency and severity of flooding is likely to increase as climate change gets worse. Sometimes flooded basement cleanup is the result of man-made problems such as a broken or burst pipe, clogged drain, or a leak. But, other times storms and extreme weather trigger water damage events that affect property owners, resulting in more costly and dangerous damage.
According to reports about climate change and infrastructure in Canada, over 900,000 buildings are at risk of flooding due to climate change - 325,000 are vulnerable to rainfall and flooding while another 625,000 are at risk of damage from breached river banks.
At Canada's Restoration Services, we are dedicated to helping Canadian property owners reverse the effects of water damage in Toronto, Edmonton, Montreal, Calgary, and other cities around the country for healthier properties as conditions become more extreme.
Expected Rainfall & Flooding in Canada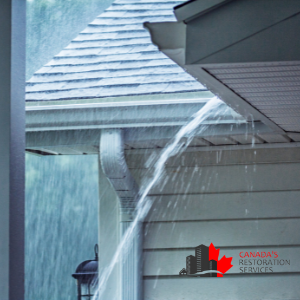 One of the reasons water damage emergencies in Toronto are expected to increase in the coming years is an increase in rainfall. Typically, Toronto has seen an average total of 830mm of rainfall annually, but reports from the Toronto Region and Conservation Authority predict that those numbers will increase by 10% from now until 2040. In addition to rainfall, warmer and wetter days are expected to be more prevalent, leaving property owners not just in need of water damage restoration and flooded basement cleanup, but also mold removal in Toronto.
Why More Precipitation Leads to More Water Damage
With more precipitation in the form of rain and snowfall, reduced ice-formation and a faster freeze-thaw cycle, more running water will flood rivers, lakes, and urban infrastructure. More rain means that properties that are not effectively water-proofed are at a greater risk of being breached by flood water. And when flooding does occur, more water is available to enter your property. Beyond infiltration through building envelopes (walls, windows, and foundation), the risk of sewage backups will also be greater. In any case, water damage in Toronto is an urgent situation requiring immediate attention from a professional restoration company like Canada's Restoration Services. But more intensity and sewage backups, require high-level flooded basement cleanup and water removal to prevent mold and air contamination.
The Problem with Sewage Backups in Toronto
When local sewer systems are overwhelmed with flood or stormwater, the water draining from your property can begin moving in the opposite direction. Unfortunately, this water moving backwards into your homes is contaminated with bacteria and viruses such as E.Coli. When this water is free flowing in your home and commercial property, anyone in the vicinity is at risk of contracting illness or infection. To mitigate the risk of sewage-induced sickness, call Canada's Restoration Services as soon as you hear any bubbling or notice water surging from your basement, and do not touch it until one of our IICRC certified technicians are on-site. At Canada's Restoration Services, we dispatch a team of professionals to arrive at your property within 45 minutes of your call for fast, reliable flooded basement cleanup.
Water Damage Restoration in Toronto
As water damage becomes more prevalent, be sure to know how to respond in a way that protects you, the people you care about, and your property. With a fast response to flooding or leaks, you can remove displaced water effectively and efficiently, keeping away mold, bacteria, and rot.
For all your necessary water damage cleanup services, from sewage backup clean to mold removal in Toronto and elsewhere in Canada, you can count on Canada's Restoration Services.
Call us now for emergency water damage restoration in Toronto.