How Can Floods Trigger Asbestos Exposure?
Posted in Asbestos Removal, on June 27, 2022
---
Before asbestos removal in Toronto was common practice and the mineral was banned by the federal government, asbestos started being mined in Canada around 1878. In the decades following, well into the 20th Century, the mineral was used in the construction of residential, commercial, industrial, and public buildings across the country. Today, asbestos is still found in many construction materials, and can be triggered from natural events like earthquakes, tornadoes, and flooding. To avoid asbestos exposure during flood damage restoration, work with a certified asbestos removal and restoration company in Toronto.
Canada's Restoration Services has years of experience working with asbestos and water damage in Toronto and elsewhere in Canada. We can help you safely restore your property.
Read on to learn more about the dangers of asbestos during flood restoration in Toronto.
How to Prevent Asbestos Exposure During Flood Damage Restoration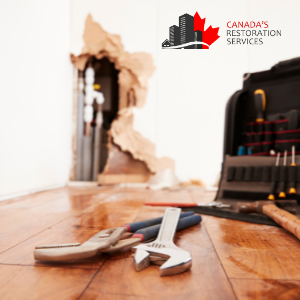 The safest way to manage flood damage restoration when it comes to dangerous and volatile organic compounds, is to identify the risk before damage or flooding can occur with professional inspections and asbestos removal in Toronto and other major Canadian cities. Unfortunately, this isn't always possible, since many people don't know that their property even contains the hazardous mineral.
Whenever you have a water damage issue, it's important to contact a professional, especially when the water is in your basement. Whether it's from a storm or sewage backup, the water is likely to be contaminated with bacteria, chemical run off, and even asbestos. An experienced flood damage restoration company is aware of these risks and knows how to approach it strategically to keep your property and the people around it unaffected.
How Does Flooding Trigger Asbestos
Asbestos is an especially lightweight material, when used to fortify construction materials like cement and pipes it adds strength and durability, but as it degrades over time, slight contact can easily send fibres airborne. When flooding occurs in your home or commercial building, it comes in contact with drywall, insulation, pipes, and other materials that contain the mineral. The force of water even at a low volume can carry asbestos fibres into the air.
If you're not especially prepared for asbestos with personal protective equipment and a strategic flood damage restoration approach, water damage cleanup can also cause asbestos to become distubred and infiltrate the air as you remove old piping and drywall damaged during the flood.
How to Know If You're At Risk for Asbestos Exposure
By 2018 a comprehensive ban on the use of asbestos in consumer products and construction was implemented by Canada's federal government, while some exceptions were permitted, more restrictions on the use of the mineral were put into place in 2022. If your property was built in the late 90s or 2000s, you're less likely to encounter asbestos than if it was built in in the mid 20th century, specifically between the 1950 - 1980.
Common Asbestos-Containing Construction Materials:
Drywall & Stucco
Ceiling Tiles & Vinyl Floor Tiles
Cement
Roofing Materials (Shingles & Sidings)
Pipes & Ducts
Put Safety First: Flood Damage Restoration & Asbestos Removal
When it comes to your health, don't take any chances. Canada's Restoration Services can help you stay on top of asbestos exposure with complimentary asbestos inspections and asbestos removal services. If you are experiencing a water damage emergency, don't try and clear it yourself, our team will arrive within 45 minutes of your call for emergency flood damage restoration in the Greater Toronto Area.