How Attic Mold Contaminates Air Quality
Posted in Mold Removal, on August 22, 2023
---
Whether you're in a home, a store, office, manufacturing plant, or any type of property in between, indoor air quality is incredibly important. Unfortunately, there are many contaminants that frequent indoor spaces, threatening the health of the air and the people in the area, especially mold. One of the most frequent concerns for property owners focused on indoor air quality is mold removal in Toronto. In most cases, it's attic mold, growth has elapsed weeks causing odours, poor air quality, and an unwelcoming environment as it travels throughout the property. Canada's Restoration Services specialized in attic mold removal so you can keep your property healthy and the people in it happy.
Read on to learn more about how attic mold can contaminate your air quality, with tips on how to reverse mold removal in Toronto and support from Canada's Restoration Services.
How Mold Gets into the Attic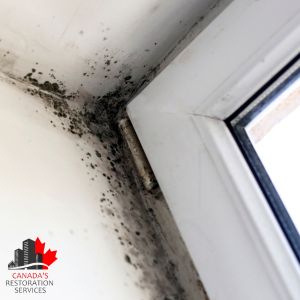 In some regard, the attic is the control center for the entire property and can directly affect the indoor air quality. When mold ends up in the attic, environmental assessments often link the cause to mold outbreaks in the attic. Mold ends up in the attic for a number of reasons. Stretched atop of the house out of the normal path of everyday life, attics are chock full of organic materials like insulation and wood, moisture from leaks, as well as humidity and heat all of which facilitate and accelerate mold growth. And because attics are out of the way, attic mold removal is usually not started until the outbreak starts to infiltrate other living areas and the indoor air quality.
The Effect of Attic Mold on Air Quality
Mold spreads through spores that are released into the air and settle onto other surfaces, feeding off of organic material and moisture to facilitate its growth. As mold becomes more expansive, spreading further they release mycotoxins into the air. When inhaled or touched by people and pets, mycotoxins can make you sick. The longer property owners go without mold removal in Toronto, the larger outbreaks grow, and the more toxins they release into the air, worsening indoor air quality. Over a short period of time mold exposure starting from attic mold can lead to a number of health effects. You may notice symptoms like rashes, headaches, nausea, difficulty breathing, or even allergy-like hives and coughing. The best way to prevent the onset of mold poisoning or mold sickness is with mold removal in Toronto. From inspections to remediation, the experienced specialists at Canada's Restoration Services will free your property of mold and restore your air quality.
Signs You Need Attic Mold Removal
Because attic mold is difficult to see at the start, it's helpful to recognize the signs of a festering outbreak. First, keep an eye out for water damage to your roof or attic. Poor weather like ice damming, heavy rain, wind, and other storms can lead to water intrusion in the attic. Pipe damage in ceilings can also result in water damaged insulation and attic materials. Look for staining on your ceiling or even paint bubbling to identify water damage in your attic. If you see earth toned stains on your ceiling, contact Canada's Restoration Services.