Guide to Protecting Your Property from a Flooded Basement
Posted in Flood & Water Damage, on June 09, 2023
---
A flooded basement can be a homeowner's worst nightmare, causing extensive damage to property and leading to costly repairs. Where heavy rainfall and melting snow can pose a significant risk to residential and commercial properties, it is crucial to take proactive measures to protect your property from water damage in Toronto. Knowing how to protect your property from water intrusion and basement flooding will help you prevent infestations and damage while also mitigating mold removal costs.
Our team of experienced restoration technicians at Canada's Restoration Services will help you with fast and effective water damage cleanup and guide you as you protect your property from future flooding and mold risks.
Maintain Proper Grading and Drainage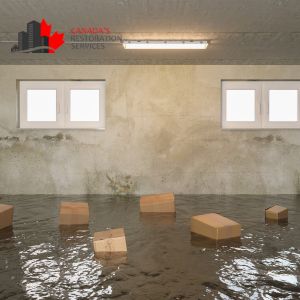 One of the primary causes of basement flooding is poor grading around the foundation of your property. Ensure that the soil slopes away from your home to facilitate proper drainage. Regularly inspect and clean your gutters and downspouts to prevent blockages and ensure efficient water flow. Consider installing extensions on downspouts to direct water away from the foundation.
Install a Sump Pump
A sump pump is designed to collect excess water in your basement and pump it away from your property. As such, it is a valuable investment in preventing a flooded basement. Sump pumps should be installed in a sump pit or at the lowest part of your basement to collect and remove all instances of water. To ensure that it is working effectively, it's vital to ensure your sump pump is equipped with a backup battery to maintain functionality in the event of power failure. In some cases, sump pumps are known to break down, not function properly, or even back up. So, when there is a chance of water damage or a flooded basement, it's a good idea to check your sump pump ahead of inclement weather or after a severe storm. If flooding occurs, contact Canada's Restoration Services to clean up water damage in Toronto and to schedule mold removal in Toronto.
Waterproof Your Basement
Waterproofing your basement is essential for preventing water intrusion. Apply waterproofing sealants or coatings to basement walls and floors. Consider installing a waterproofing membrane or drainage system to redirect water away from the foundation. Sealing any cracks or gaps in the foundation walls or floors is also advisable.
Install Window Well Covers
If your basement has windows that are below ground level, installing window well covers is highly recommended. These covers prevent water from pooling around the windows, reducing the risk of leakage into the basement. Opt for durable, secure covers that allow for proper ventilation.
Maintain and Inspect Plumbing Systems
Regularly inspect your plumbing systems for leaks, cracks, or signs of deterioration. Pay attention to pipes, fittings, and appliances connected to your basement. Fix any issues promptly to prevent water damage. Consider installing a backwater valve to prevent sewage backup during heavy rainfall or flooding.
Reducing Mold Removal Costs
When water damage in Toronto occurs, organized and prompt action is essential to reducing the risk of mold growth. After water damage, it only takes about 24 hours for mold infestations to start to form. With the help of the professionals at Canada's Restoration Services, the following steps can help you preserve your property.
Remove Standing Water: Use pumps, wet vacuums, or professional water extraction services to remove standing water from the basement.
Dry Thoroughly: Utilize dehumidifiers, fans, and proper ventilation to thoroughly dry out the affected area. Monitor the moisture levels regularly.
Salvage or Dispose: Evaluate damaged items and materials. Salvage what you can and dispose of irreparable or mold-infested items responsibly.
Clean and Disinfect: Thoroughly clean and disinfect all surfaces to eliminate bacteria, fungi, and mold spores. Wear protective gear during the cleaning process.
Seek Professional Restoration Company: If the damage is extensive or mold growth is present, it is advisable to consult professional mold removal services. They can assess the situation, conduct proper remediation, and provide guidance on preventing future mold growth.
Flooded Basement & Water Damage Services
Protecting your property from a flooded basement is crucial in preventing water damage and reducing potential mold removal costs. By implementing preventive measures such as maintaining proper grading, installing a sump pump, waterproofing your basement, and inspecting plumbing systems, you can significantly reduce the risk of basement flooding in Toronto. Take immediate action with the trusted and experienced technicians at Canada's Restoration Services in case of a flood. Our teams will arrive in 45 minutes or less for water damage incidents in the Greater Toronto Area.