Everything You Need to Know About Transite Sheets
Posted in Asbestos Removal, on December 15, 2021
---
Transite is a common asbestos-containing construction material. Its widespread use has maintained the need for commercial and residential asbestos removal in Edmonton today. Debuting in 1929, the Transite brand is the name for an asbestos-cement product, typically used as wallboard or sheeting. Transite was designed for a variety of applications, as a result the only way to certainly know the risk and concentration of the cement based material is with scientific asbestos testing in Edmonton.
For example, asbestos testing in Edmonton has shown that Transite – when used as an electrical duct – can consist of 15% to 25% of the chrysotile form of asbestos, while Portland cement accounts for 45% to 55% of the product, compared to 25% to 35% of silica.
Where You Might Find Transite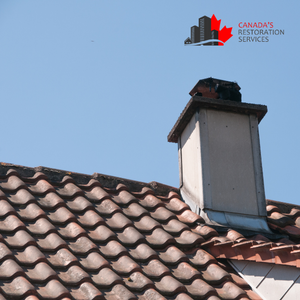 Transite is a combination of asbestos fibres mixed with cement to strengthen the material, while also creating a more versatile substance that could be rolled into thin sheets without jeopardizing the material's stability. This allowed the material to be molded and formed into a number of various products, which includes roof shingles, chimneys, sidings, plumbing, wall panels, walk-in coolers and more.
As with any form of the mineral, precautionary measures must be taken to avoid risk of exposure when it comes to asbestos removal in Edmonton. If Transite is disturbed through sawing, cutting, or demolition, it can subsequently expose asbestos fibres, leading to severe health conditions if inhaled, such as ​​lung cancer and malignant mesothelioma. That is why it's important to consult with a trusted and experienced restoration company, such as Canada's Restoration Services, when dealing with asbestos abatement.
Asbestos Risk Level of Transite
Thanks to asbestos testing in Edmonton, experts know that Transite and other asbestos-containing materials are considered safe so long as they are intact. Such materials become a hazard when they are disturbed and exposed. If you are concerned about the presence of Transite in your home or any other asbestos-containing material, consult with Canada's Restoration Services or any other home restoration company first before addressing the issue on your own.
With most forms of Transite found on your home's exterior (roof shingles, sidings), the elements may accelerate deterioration as your property ages. Trees falling, wind, and hail, are just some of the conditions that can make the Transite material found on your home's exterior weaker and susceptible to asbestos exposure. If you know Transite is a building material used in your home, avoid any surprises, and call the trusted asbestos abatement contractors at Canada's Restoration Services
How to Deal with Transite On Your Property
The best course of action when it comes to Transite abatement and any other form of asbestos removal in Edmonton is going through an experienced home restoration company.
Canada's Restoration Services is a proven and trusted expert when it comes to both asbestos testing and removal in Edmonton. When dealing with asbestos abatement in a commercial or residential building, the company provides samples to accurate third-party lab and safe measures, including full containment gear and equipment is brought in to ensure that belongings are safe from any cross-contamination.
Contact us today to talk to an asbestos expert at Canada's Restoration Services today!