Essentials Dos & Don'ts For Asbestos Removal in Toronto
Posted in Asbestos Removal, on September 22, 2021
---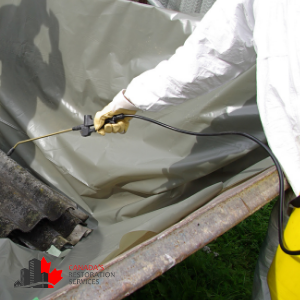 It's well known that asbestos is dangerous and can lead to a plethora of health issues. But when you're not a professional asbestos abatement contractor and find yourself faced with the harmful mineral, it's easy to get flustered and not know how to proceed. If you suspect asbestos, it's critical to begin the process for asbestos removal in Toronto right away.
If you have reason to believe asbestos is lurking beneath the surface of your commercial or residential property, contact Canada's Restoration Services for asbestos testing in Toronto to ensure that your home is asbestos-free. Our team of specialized technicians will guide you through each step, from inspections and testing to removal and clean-up.
Here are the essential Dos and Don'ts for asbestos removal in Toronto.
Do: Wear Protective Gear
It's essential to use personal protective equipment (PPE) when in the vicinity of asbestos, especially when handling it. Wearing the proper protective equipment, such as respiratory masks, gloves, and shoe coverings, will limit contamination to your clothes or inhalation of asbestos fibres. However, you should evacuate rooms that could have asbestos and do not return until you have confirmed you have conducted asbestos testing in Toronto that affirms that there is no risk to you or any other occupant's health.
Don't: Touch Asbestos
Asbestos can break down very quickly, so it's best to refrain from touching it. Even slightly disturbed, the fibres can become airborne, easily leading to exposure and future health problems. In fact, if you see asbestos, the best thing to do is to close the door and walk away from it.
Do: Professional Asbestos Testing
Asbestos has the potential to be everywhere throughout the home, so it's hard to know where you might uncover it. Before starting any kind of renovations or projects, the best thing is to get professional asbestos testing in Toronto to guarantee your home has no trace of the material.
Don't: Try to Identify Asbestos Yourself
There are several types of asbestos that all vary in different degrees of popularity and danger. White asbestos is the most common type used in residential building materials, but there's also the chance of blue and brown asbestos being present. As tempting as it is to try and determine the type of asbestos on your own, don't — leave it up to the professionals.
Do: Use a HEPA Filter
HEPA filters are a fantastic investment to help purify the air from any contaminants or impurities, and they're great to use following asbestos removal. Of course, any trace of asbestos will be eliminated, but HEPA filters help clear up the air and increase your indoor air quality. A HEPA filter on its own won't eliminate asbestos from building materials on your property Call Canada's Restoration Services for complete asbestos removal in Toronto.
Don't: Turn on Fans, Air Conditioners, or Heating
If you encounter asbestos, whatever you do, do not turn on any form of ventilation. If there's even the slightest airflow, it risks moving airborne asbestos particles around the house, making the chances of exposure even higher.
Do: Professional Asbestos Removal
Asbestos removal is an incredibly intricate and challenging job and should only be performed by experienced and certified professionals. Our specialized technicians are the industry leader in asbestos abatement services, so you can trust us to effectively eliminate any traces of it.
Contact Canada's Restoration Services today for certified and trustworthy asbestos removal services.