The Dangers of DIY Attic Black Mold Removal
Posted in Mold Removal, on March 16, 2023
---
When you encounter black mold on your property, your instinct may be to get rid of it immediately with a do-it-yourself mold removal method. However, black mold removal is a serious task that should always be left to the professionals, especially when it comes to attic mold removal. Attempting mold removal in Toronto by yourself can lead to dangerous consequences for both you and your home.
At Canada's Restoration Services we provide comprehensive mold removal services, from attic mold removal to crawl space mold removal and everything in between, that will help you identify instances of black mold promptly and eliminate it effectively. Read on to learn more about the dangers of black mold and why mold detection and removal should be left to a trusted and certified restoration company in Toronto.
The Health Risks of Black Mold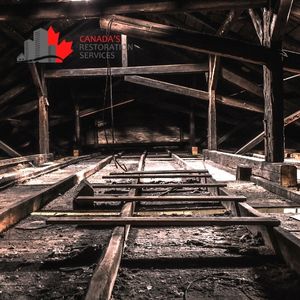 Black mold is a type of fungus that can grow in damp and humid areas of your home, including your attic. While many species of mold can appear black in colour, the toxic black mold removal that frightens many homeowners is scientifically known as "Stachybotrys Chartarum." Exposure to this species of black mold can cause a variety of health problems, such as respiratory issues, headaches, and allergic reactions. These health risks are particularly dangerous for individuals with pre-existing health conditions or weakened immune systems. To identify whether this species presents a significant risk to your property, schedule mold testing and inspections with Canada's Restoration Services.
The Importance of Proper Protective Gear
When it comes to attic mold removal or remediation of toxic mold anywhere in your property, it is important to wear the best protective gear. This includes gloves, goggles, a respirator mask, and a full-body suit. Without this protective gear, you are at risk of inhaling and spreading mold spores, which can lead to health problems and even mold growth in other areas of your home. Certified restoration companies in Toronto have access to these protective equipment which streamlines the completion of mold removal.
The Risk of Spreading Mold
Attic black mold removal is not as simple as wiping down the affected areas with an over-the-counter or homemade solution. In fact, attempting to remove mold without the proper techniques and equipment can lead to the spread of mold spores throughout your home. This can lead to further damage to your home and an increased risk of health problems. The trained technicians at Canada's Restoration Services have a refined and safe approach to attic mold removal that is designed to decimate mold spores and protect your indoor air quality fast.
The Importance of Professional Expertise
When it comes to attic black mold removal, it is essential to seek the help of professionals like Canada's Restoration Services. Our team has the experience, expertise, and equipment necessary to safely and effectively remove black mold from your attic. We use industry-leading techniques and equipment to ensure that the mold is completely eliminated and that the risk of future mold growth is minimized.
The Benefits of Professional Mold Removal Services
By choosing our professional mold removal services in Toronto, you can have peace of mind knowing that your home is in good hands. Our team will take the necessary precautions to ensure that the mold is completely removed from your attic, and we will also take precautionary steps to minimize the potential for repeat infestations in the future. Contact us today to learn more about our mold removal services.