Contaminants a Commercial Cleaning Company Can Eliminate
Posted in Commercial Cleaning, on July 13, 2021
---
In this day and age, more and more businesses understand the importance of cleaning and disinfection in commercial spaces. A commercial cleaning company is one of the most effective ways to protect the health and safety of customers, employees, and visitors in stores, medical practices, and office buildings. Unfortunately, many businesses still rely on in-house cleaning practices, which are simply not as effective as commercial disinfectant cleaning services at targeting microscopic contaminants hidden within the workplace.
At Canada's Restoration Services, we provide professional and safe commercial cleaning services to businesses across the country, protecting the structural integrity of the building, business practices, and the safety of employees and patrons. Our comprehensive commercial cleaning approach essentially targets all viruses and bacteria collectively, minimizing cross-contamination to keep your space safe.
Here's what you should know about eliminating contaminants from your commercial property.
Where Are Contaminants Hiding?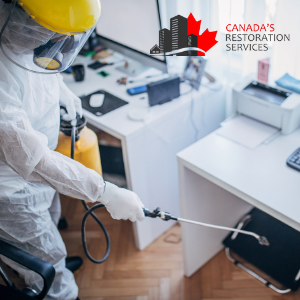 While contaminants can be anywhere, contagious viruses and bacterias tend to be in high-traffic and high touch-point areas such as doorknobs, elevators, phones, bathrooms, and computers. These types of surfaces pose the most significant potential for spreading illness in commercial spaces because so many people pass through.
While you can clean these areas yourself, it's not always successful as a result of cross-contamination. A commercial cleaning company will leverage techniques, colour-coding, cleaning plans, and professional commercial disinfectant cleaning techniques to prevent the spread of disease that can be perpetuated by well-meaning, in-house cleaning.
Viruses and Bacteria
Viruses and bacteria are the sources of all contagious illnesses, which makes them especially dangerous in small or closed spaces. Basic sanitation with store-bought alcohol products doesn't always provide complete disinfection of surfaces. Rather than kill off a virus or bacteria, it simply reduces them to particles. In-house sanitization typically only tackles viruses and bacteria that are in easy to reach places, not accounting for contaminants that can travel the air or that could be lingering in harder-to-access areas.
At Canada's Restoration Services, we leverage a commercial fogging technique designed to disinfect commercial spaces with an EPA-approved Botanical cleaning solution. The solution travels in the same path as air, effectively reaching cracks and crevices for a more complete disinfection overall.
Mold Removal Services in Toronto
Mold and mildew become a problem as a result of water damage and late detection. Mold and mildew in the workplace is not a DIY job, especially in the case of hazardous species like black mold. However, left unnoticed or untreated, it can negatively impact air quality, causing any range of health issues from headaches to severe allergies. At Canada Restoration Services, we do inspections, testing, and abatement to enable effective mold removal in Toronto.
How CRS Can Help Keep You Safe?
Our team of commercial cleaning specialists at Canada's Restoration Services are IICRC certified and equipped with high-grade cleaning and disinfectant tools and techniques to virtually eliminate dangerous viruses and bacteria in commercial spaces. If requested, we offer 3rd party testing to better identify any contaminants putting your employees or team at risk.
Contact Canada Restoration Services today for professional, safe, and complete commercial disinfection.