Can Mold Grow in Cold Temperatures?
Posted in Mold Removal, on September 24, 2023
---
While cold temperatures can slow the progression of mold growth, infestations can still occur in cold temperatures. Mold spores are present nearly everywhere, and they can become active and start growing when they find the right conditions, like heat and humidity. While colder temperatures can slow down the growth of mold, they don't necessarily prevent it altogether. If mold still gives you problems in the colder months, the best solution is to call experts at mold removal services in Toronto and flood restoration: Canada's Restoration Services.
What Conditions Does Mold Need to Grow?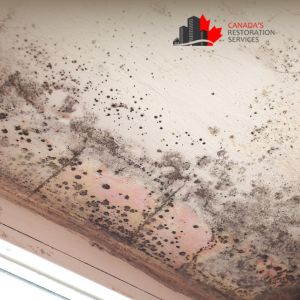 In colder climates or during the winter months, indoor environments can provide suitable conditions for mold growth if there is moisture buildup from leaks, condensation, or high humidity levels. Therefore, it's essential to maintain proper ventilation, control humidity levels, and address any water issues to prevent mold growth, even in colder temperatures.
Mold growth is most commonly associated with temperatures between 70°F and 90°F (21°C to 32°C) and high humidity levels (above 60%). In colder temperatures, mold growth may be slower, but it can still occur if other conditions, such as moisture and organic material for food, are present. Some molds can even grow in temperatures as low as 32°F (0°C), although their growth rate will be significantly reduced.
The Health Risks of Mold Infestations
Respiratory Problems: Mold spores can become airborne and be inhaled, leading to respiratory issues such as coughing, wheezing, throat irritation, and exacerbation of asthma or allergies.
Allergic Reactions: Mold can trigger allergic reactions in sensitive individuals, causing symptoms like sneezing, runny or stuffy nose, itchy or watery eyes, and skin rashes.
Fungal Infections: In rare cases, individuals with weakened immune systems may develop fungal infections from mold exposure, which can be severe or even life-threatening.
The Structural Risks of Mold Infestations
Rot and Decay: Mold feeds on organic materials like wood and drywall. Prolonged mold growth can lead to structural damage, weakening the building's integrity.
Material Deterioration: Mold can cause staining, warping, and deterioration of surfaces, which can be costly to repair or replace.
Decreased Property Value: The presence of mold can significantly reduce the value of a property, making it challenging to sell or rent.
Legal and Financial Implications of Mold
Liability Issues: Property owners can be held liable for health issues caused by mold exposure if they fail to address the problem promptly and effectively.
Costly Remediation: Mold remediation can be expensive, especially if the problem is widespread or has structural issues to address.
Apart from mold's unsightly appearance and musty odour, there is also the risk of repeat problems. If not adequately addressed, mold issues that are not effectively resolved may return, leading to ongoing health concerns and property damage. For a skilled and effective approach to mold removal, trust Canada's Restoration Services team.
Mold Removal in Toronto & Canada's Restoration Services
It's essential to take mold growth during winter seriously and address it promptly. Preventative measures, regular inspections, and appropriate remediation are crucial steps in managing winter mold problems. Canada's Restoration Services are leaders in flood restoration and mold removal services in Toronto. Trust our team for all your restoration needs.