Benefits of Commercial Cleaning Company Doing One Time Disinfection
Posted in Commercial Cleaning, on March 18, 2021
---
While no one can deny the positive effect of a pristine facility on your bottom line, office cleaning and disinfection has never been more critical than it is today. With the second wave of the COVID-19 pandemic still raging on, it is the company's responsibility to ensure a safe and healthy work environment for employees as well as clients. This is why commercial disinfectant cleaning by a reputable commercial cleaning company plays a crucial role in maintaining a sanitized & secure workplace. As we struggle to keep our world operational, expert commercial disinfectant cleaning can reduce the risk of transmission and foster a safe work environment. Uncertain times require unprecedented measures; here is why professional disinfection is beneficial this pandemic:
Next-Gen Disinfection: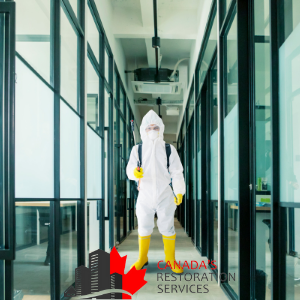 Professional disinfection services will ensure that you go beyond normal cleaning. You need to understand that cleaning & disinfection are not the same—while cleaning only removes visible contaminants, disinfection kills nearly 100% of contaminants & germs on surfaces.
Commercial cleaning companies employ trained disinfection experts who have undergone specialized training and possess the requisite experience. Efficient & thorough, they adhere to industry guidelines & standards to eliminate viruses, bacteria and infectious allergens.
Time-Saving
The last thing you need while running a business is additional hassles about cleanliness & disinfection. The Coronavirus pandemic has necessitated an extra level of cleanliness in terms of regular sanitization & disinfection apart from regular cleaning. Outsourcing your cleaning needs to a commercial cleaning company can help you save time spent on routine cleaning chores and additional precautionary measures. They also minimize work disruptions by scheduling the cleaning & disinfection during after-hours or weekends.
Hospital Grade Cleaners & Equipment
A trustworthy commercial cleaning company like CRS comes with the reassurance of
cutting-edge infection control & disinfection technology. State-of-the-art disinfection equipment & 360-degree coverage ensures the complete elimination of disease-causing contaminants. Commercial cleaning companies also strive to be socially responsible by using non-toxic and environment-friendly disinfectants approved by competent authorities. This means that disinfection will not lead to toxic chemical vapours. They will also ensure a quicker service with a shorter dwell time—you will be able to resume routine work with no post-disinfection delays.
Increased Productivity
Studies indicate that employees are less productive working in an office that is dirty and unhygienic. With a safe & hygienic work environment, there are fewer sick leaves and greater employee productivity. Moreover, commercial disinfectant cleaning will ensure a germ-free facility so that there is the least possibility of a COVID-induced business disruption. Whichever business you may be in, a clean and disinfected workspace will promote employee safety, productivity and efficiency.
COVID Control
The cleaning industry is leading from the front in fighting COVID-19 with preventive and post COVID disinfection services. We at Canada Restoration Services are committed to flattening the Corona curve with our untiring efforts to disinfect and protect government buildings, businesses, schools, & homes. From wipe downs to commercial disinfectant cleaning, our trained teams effectively eliminate contaminants that can compromise the immune system and make the coronavirus a deadlier threat.
Canada Restoration Services: Next Gen Disinfection & Restoration Solutions
With CRS, you go beyond routine cleaning to ensure a healthy and safe work environment with contactless 360-degree disinfection and restoration services. The Numero Uno in Canada's Restoration industry, CRS has been proudly serving Ottawa, the GTA, Calgary, Edmonton, & Montreal for over a decade. Specialists in all commercial & residential restoration services, we offer professional solutions to all your disinfection, from mold removal services in Toronto to asbestos, water & fire damage, as well as complete reconstruction services. Call us on 1-888-551-0514 for a comprehensive disinfection plan & commercial disinfectant cleaning to protect your people and place!