The Asbestos Risk Assessment Process in Montreal
Posted in Asbestos Removal, on October 21, 2021
---
Asbestos was first discovered and mined in Quebec, so naturally, it is a concern for older properties across the region. Asbestos testing in Montreal and elsewhere in the province is taken very seriously. In 2013, the government mandated that employers take action (with the help of asbestos testing services in Montreal) to eliminate the risk of asbestos exposure to workers in properties constructed before the 1990s. The use of asbestos ended for the most part, which has resulted in the general risk of asbestos diminishing, yet even still, it's not obsolete.
To ensure that your facility is asbestos-free, the Government of Canada has a set of asbestos risk assessment procedures for employers to follow as they team up with asbestos testing services in Montreal. For inspections and asbestos testing in Montreal, you can depend on Canada's Restoration Services, a trusted nationwide asbestos removal company with years of experience and a team of trained technicians.
Before you start asbestos removal, here are the basics of asbestos risk assessment.
Confirm Asbestos Containing Material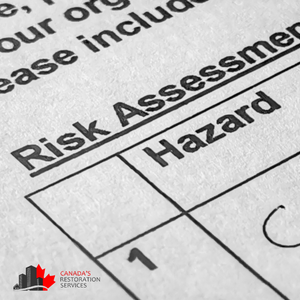 The first and foremost step is to determine whether a material is, in fact, an asbestos-containing material (ACM). According to Occupational Health & Safety (OHS), an ACM is any material that contained at least 1% asbestos by weight when it was manufactured. This is confirmed by asbestos testing services in Montreal through a professional hazard investigation.
Hazard Investigation
Hazard investigations are to be conducted only by certified asbestos removal companies in the country. Canada's Restoration Services is equipped with a team of trained asbestos technicians. At this point, any asbestos at risk of becoming airborne should be sealed or labeled effectively. Any areas where there is suspected asbestos are subject to a hazard investigation where technicians can conduct thorough inspections and collect samples for asbestos testing in Montreal. Additionally, any affected areas should be evacuated and blocked off. If you're unsure about the next steps, the Canada's Restoration Service team is always happy to assist and share our knowledge of proper practices for asbestos removal near Montreal.
To complete asbestos hazard investigation in the workplace, all friable asbestos must be controlled through encapsulation, enclosure, or asbestos removal. Friable asbestos is any form of the mineral that is not encased and vulnerable to becoming airborne.
Risk Assessment for Asbestos Removal Near Montreal
Risk assessments occur prior to asbestos removal to determine whether the asbestos present is low risk, medium risk, or high risk. Asbestos testing in Montreal is used during this process to identify the type and amount of asbestos, which determines the risk potential and the extent of abatement work necessary to eliminate danger for employees.
Sample Collection for Asbestos Testing in Montreal
During asbestos inspections, our technicians will collect asbestos samples using approved collection methods, which will then be sent to 3rd party labs to confirm the presence of fibrous forms of Chrysotile, Crocidolite, Amosite, Actinolite, Anthophyllite, or Tremolite. Once identified, we will notify employers of our findings and begin asbestos abatement.
Choosing Canada's Restoration for Asbestos Testing and Removal in Montreal
At CRS, our team is trained in asbestos removal. We have years of experience following government procedures to help residential and commercial clients make their properties safer. We welcome questions about asbestos removal in Montreal.
Contact our team today to book an asbestos inspection.