Asbestos Abatement Edmonton Move-In Checklist
Posted in Asbestos Removal, on December 06, 2021
---
Moving to a brand new home is an exciting experience, but it's not without its stress. It often feels like your to-do list is never-ending, especially when your new home is a "fixer-upper" with renovations and maintenance adding up.
It's important to consider that asbestos might be used in your new home's building materials. If you think that's the case, contact Canada's Restoration Services for asbestos testing in Edmonton. If our team of certified professionals detects any trace of the hazardous mineral, we'll conduct asbestos abatement in Edmonton and effectively remove it.
Here's how you can stay on top of asbestos in your new home.
Was Your Home Built During The Time When Asbestos Was Popular?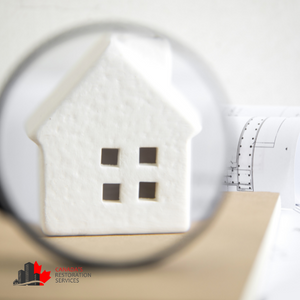 If your home was built between the 1960s and 1990s, there's a significant chance that asbestos-containing materials are hiding in plain sight. During the peak of its use, asbestos was highly accessible and affordable. This, combined with its heat-resistant properties, made asbestos a top choice among contractors.
Is Asbestos Always a Threat?
Even the most durable and strong asbestos has the potential to break off and release its deadly fibres. Airborne asbestos has been connected to many chronic illnesses to those who have experienced extended or repeated exposure. Health conditions include lung cancer, mesothelioma, asbestosis, and other respiratory issues. The link between asbestos and illness is still being studied. In most cases, symptoms don't appear until about a decade after exposure. To guarantee your long-term wellness, the best thing you can do is contact Canada's Restoration Services for asbestos testing in Edmonton before interacting with asbestos.
Conduct Asbestos Testing Before Renovations
Without a doubt, it's exciting to renovate your new home and put your stamp on it. But before you dive into your renovation and take out your bathroom vanity or knock down some walls, it's in your best interest to get the help of professional asbestos abatement services. Asbestos testing in Edmonton will quickly identify traces of the mineral in building materials. During this process, trained technicians will determine the risk of exposure and prepare a plan to completely remove traces of asbestos.
Rooms That Should Undergo an Asbestos Inspection in Edmonton
Not making things easy for the average homeowner, the use of asbestos was not limited to any particular room or building material. Its desirable qualities made asbestos an excellent fit for many applications including, but not limited to pipes, insulation, tiles, and even popcorn ceilings and paint.
While every discovery of asbestos won't point to danger, it's best to leave that assessment in the hands of a professional. The Canada's Restoration Services team is equipped with the asbestos know-how and experience to determine the best next steps for your property.
Inspect, Test, Eliminate, Clean, Renovate!
Asbestos inspections and tests are a critical part of the asbestos abatement process and should be one of the first things completed moving into your home. Before you're fully moved in, ensure that you follow the necessary steps to guarantee your safety around asbestos. Once inspections and tests are completed, our team conducts effective asbestos removal and comprehensive cleanup and disposal of the hazardous material. After we've guaranteed your health and safety by eliminating any trace of asbestos, then you can carry on with your home projects.
Call Canada's Restoration Services for an inspection and asbestos testing in Edmonton before you move in.