What You Need to Know About Asbestos Clean Up in Edmonton
Posted in Asbestos Removal, on August 25, 2021
---
Whether you're at work or at home, uncovered or exposed asbestos is a matter of urgency and safety. If the mineral is disturbed accidentally due to improper asbestos removal in Edmonton, its fibres can be released and inhaled. To avoid any fallout from an encounter with asbestos you must take careful steps to ensure that everyone around you is protected. If you're not sure how to manage asbestos, call the professionals at Canada's Restoration Services for asbestos remediation in Edmonton. Our team is equipped with years of relevant experience across Canada.
Here's what you should know about asbestos clean-up.
Where Are You Likely to Encounter Asbestos?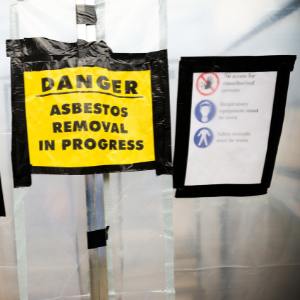 Asbestos is not confined to what particular space of a property. From roofs to the cement base of a water tank, there are many surprising hiding places for asbestos. Essentially asbestos can be found in virtually all building materials that required insulation or fireproofing (ceiling tiles, insulation, pipe wrap, etc,) that were installed before the 1990s.
If you're not sure whether you'll need asbestos removal in Edmonton, Canada's Restoration Services provides comprehensive inspections to homes across the city, where we will identify asbestos-containing materials around your property.
How Much Danger Are You In?
When it comes to professional asbestos remediation in Edmonton, safety is the number one priority for Canada's Restoration Services because asbestos can be incredibly dangerous. Sealed away the risks are low, but once fibres are airborne they can be inhaled, having long-term health implications. One of the leading illnesses caused by asbestos exposure is mesothelioma: a cancer of the lung lining developed after years of repeated asbestos exposure. About 400-450 people are diagnosed with mesothelioma in Canada yearly, with a 70% mortality rate. Currently, no cure is available for mesothelioma.
The dangers of asbestos depend heavily on the percentage of asbestos in building materials. 3rd party asbestos testing in Edmonton from Canada's Restoration Services will determine the concentration of asbestos from inspection samples. Testing will enable you and asbestos removal technicians to measure the risk of asbestos in your property and decide whether asbestos removal in Edmonton is possible.
What to do if Asbestos is Detected?
If asbestos testing in Edmonton detects the mineral in your home, you must stay away from the property until asbestos removal. Put up signs and communicate via emails and phone calls to warn others around you. In cases where you may have been exposed to airborne asbestos fibres, carefully change and dispose of exposed clothing. The most important next step is professional asbestos removal in Edmonton. Call Canada's Restoration for expertise and a full range of asbestos removal services in Edmonton.
Asbestos Remediation in Edmonton
Do not attempt to DIY your asbestos removal in Edmonton. The risk to your health is not worth it. Additionally, leftover asbestos fibres missed during removal can be more dangerous than ever. When it comes to asbestos removal, the government of Alberta requires workplace procedures ready to remove and safely dispose of asbestos using trained and certified staff. This procedure includes filing an appropriate notice with OH&S for any asbestos removal in Edmonton conducted 72 hours prior.
Canada's Restoration Service is a trained asbestos removal company that is IICRC certified and equipped to follow strict regional regulations. For safe, fast, and effective removal of asbestos, you can count on CRS.
Book an asbestos inspection in Edmonton today.