5 Building Materials You Should Test For Asbestos
Posted in Asbestos Removal, on June 17, 2021
---
Asbestos was used ubiquitously for building construction before the 1980s, especially between 1920 - 1960. Despite asbestos now being banned, it is often uncovered in buildings and homes during renovations and remodels. Before carrying out any renovations in your home, it's essential to determine where asbestos may be located and look for a company to carry out asbestos testing services in Montreal. Asbestos was used in a wide range of building materials and can be found throughout your home. Read below for more information on which building materials may contain asbestos and when you should call a professional for asbestos testing in Montreal.
Where Asbestos Can Be Found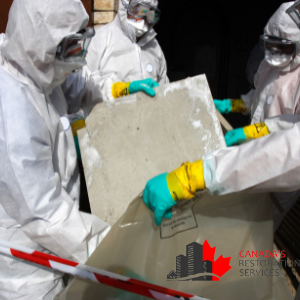 Before beginning demolition, constructions or even minor renovations it's best to check these areas in the home where asbestos materials are commonly uncovered:
Pipes - Asbestos was used for pipe making and wrapping because it's lightweight fibres. Asbestos is likely to be found in sewage drainage pipe as well as hot water piping.
Drywall - Asbestos was heavily in drywall especially during the 1950s because it strengthened the system's structural integrity. Sanding, cutting and damaging drywall can lead to the release of asbestos fibres.
HVAC - Used for ductwork and piping for HVAC systems, asbestos fibres released in HVAC systems can quickly spread across through vents within a home.
Roofing - Asbestos was used as a roofing membrane for insulation. While asbestos in this area is generally not an urgent concern it can be hazardous when working on extensive roof repairs or replacements.
Shingles - Like drywall, asbestos was used to strengthen the structural integrity of the shingles and asbestos fibres can be released whenever these materials are distubed, damaged, or replaced.
If you see damage or degradation to any of these materials in your home, it is best to take action and call a company that can carry out asbestos testing services in Montreal. At Canada's Restoration Services, we know where asbestos is commonly found and how to safely inspect and eliminate danger in these areas.
Why Was Asbestos Used?
Asbestos was heavily used as it had some beneficial properties for the building construction industry. Asbestos is naturally fire-resistant and soundproof, making it an excellent product for fire-stopping and home insulation. These two traits make it so popular in homes as it was used between rooms, floors, and equipment to minimize sound disruptions and prevent fire from spreading throughout a building.
In combination with its durability and resilient characteristics, the affordability of asbestos was an excellent product for drywall and roofing systems.
Testing for Asbestos
It is not possible to accurately determine whether a material contains asbestos or not by simply looking at it (especially to the average person). The most effective way to determine if asbestos is present inside your home is by calling a company that can carry out asbestos testing in Montreal.
At Canada's Restoration Services, we offer fast, 3rd party asbestos testing. If we identify asbestos in your home, you can depend on our expert team for safe and comprehensive asbestos removal in Montreal.
Contact us today for reliable, safe, and fast asbestos inspection, testing, and abatement in Montreal!