4 Variables that Affect the Mold Removal Timeline in Toronto
Posted in Mold Removal, on November 11, 2021
---
Discovering mold in at home or at work is never pleasant, and most of the time, the pungent, unmistakable odour of mold is met with a sense of urgency to eliminate it. Mold infestations can happen quickly and unexpectedly, so while you may feel unprepared when it comes to finding reliable and efficient mold removal in Toronto, our experts at Canada's Restoration Services are here to help.
Our experienced technicians are specialized in a wide scope of mold remediation — inspections, removal, and mold testing services in Toronto. Mold removal is an urgent issue, and it can be completed quickly by our team at Canada's Restoration Services, but the timeline is dependent on a variety of factors.
Here's what will influence the duration of successful mold removal in Toronto.
Mold Inspection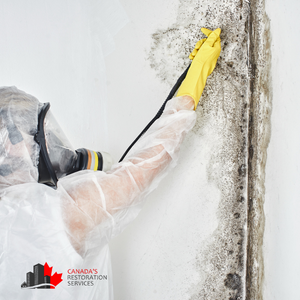 During mold inspections from Canada's Restoration Services, trained technicians will assess the area to identify the source of the infestation, and implement a plan of action for mold removal in Toronto. Following inspections, our team will provide recommendations and advice on preventing mold infestations from happening in the future, such as investing in a dehumidifier and how to improve ventilation throughout the property.
Mold Testing
Canada's Restoration Services provides comprehensive and third-party mold testing services in Toronto to effectively identify the risk of mold and assess the air quality. Mold testing is a critical part of the remediation process; it has to be tested to determine the species and immediate hazards it may present, such as aspergillus or toxic black mold. Air quality tests are conducted to determine if mold spores have travelled to other parts of your property. Without these tests, it would be nearly impossible to determine if there are any stray mold spores.
Scope of Mold Outbreak
Perhaps the most significant factor affecting the mold remediation timeline is the scope of the outbreak. Of course, if it's limited to a small room or area, the removal process won't take as long as an outbreak that stretches across several spaces.
Additionally, the speed of mold removal in Toronto depends on the types of rooms infested. Mold outbreaks are prone to attics, basements, crawl spaces, cold storage, bathrooms, and kitchens. While kitchens and bathrooms are easy to access and generally straightforward, areas like attics and crawl spaces are more complicated and require a meticulous approach.
Another factor that influences the mold remediation process are the materials affecte. The more porous a fabric or structure, the longer the removal process will take. Materials such as drywall, carpet, couches, and insulation, are very porous, and mold removal will be more intricate than hard surfaces like counters, tiles, or concrete. Most mold infestations involve a combination of both porous and non-porous surfaces. To keep everything at a minimum — time, cost, and mold growth — contact Canada's Restoration Services for mold removal as soon as it's spotted.
Method of Mold Removal in Toronto
Professional mold removal is the only thing that will completely eliminate mold. At Canada's Restoration Services, we guarantee that your property will be safe following our comprehensive mold removal procedure. Our team of certified professionals take every necessary step and follow industry best practices, from inspections and testing to removal and third-party clearance for that extra peace of mind.
Call to Schedule a mold inspection near Toronto today.