4 Problems You Can Find in Your Attic
Posted in Asbestos Removal, on November 18, 2021
---
When thinking about the comforts of home, the attic isn't the first thing that pops into your mind; it's quite often cold, blustery, ridden with cobwebs, and maybe even critters or contaminants. The absentee mindset in regards to attics can leave surprises as to what's really up there. Upon inspection, many discover contaminants that require asbestos inspections, water damage repair, or mold removal in Edmonton. If converting your attic into a comfortable space is in your future, but want to be safe from any health hazards, such as asbestos, contact Canada's Restoration Services for asbestos testing in Edmonton and mold inspection to transform your attic into a safe and healthy space.
Here are 4 attic surprises for which you should be prepared.
Asbestos Insulation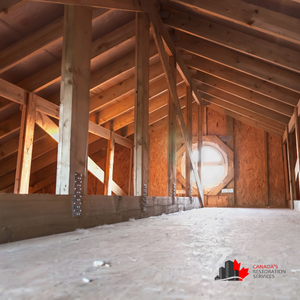 Asbestos was considered the perfect material for attic insulation because it was readily available, cost-effective, and fire-resistant. In fact, insulation was the most significant cause of asbestos exposure throughout the 20th century. Loose-fill asbestos insulation, the most common type that you might find in your attic, was simply poured onto the floor and could easily fill empty spaces in all corners and walls. However, as a result of its fluffy consistency, it could become disturbed and airborne with the slightest amount of pressure or contact. If you encounter asbestos insulation in your attic, or even if you're just unsure, contact Canada's Restoration Services for asbestos testing in Edmonton.
Water Damage
Water damage can often happen without you knowing, especially in your attic. The slightest bit of damage to your roof or gutters can cause a small leak and water damage in your attic. There are a few telltale signs to see if you have water damage in your home, such as looking for water stains, missing shingles, damaged gutters, or even something as simple as built-up roof debris. Water damage in your attic can cause rust, corrosion, stains, electrical issues, and excessive moisture and mold growth. To maintain the health of your attic call Canada's Restoration Service for water damage and mold inspections in Edmonton.
Mold Infestations
To put it simply: mold loves attics. It thrives in the dark, stagnant, and often humid air. The lack of ventilation, leaks from a damaged roof, or even just a damp home create perfect conditions for mold and guarantee the need for mold removal in Edmonton. The most common reason for mold in your attic is a blocked ventilation system and trapped heat. Without proper ventilation, humidity from your dryer, bathroom, or even kitchen exhaust, has nowhere to go, it simply remains in the attic, and as a result, mold spores settle and fester.
Structural Damage from Pests and Storms
Structural damage can happen in your attic without you even knowing. It can happen from pests, such as mice, rats, insects, squirrels, or even raccoons, and they can burrow through insulation, cords, insulation foam, and pipes. While a mouse might seem minor in the grand scheme of things, those critters can gnaw holes in rafters, cut electrical wiring, and disrupt insulation. In terms of storms, roofs can be damaged from high winds or a tree falling, resulting in warped attic rafters, ceiling and wall stains, and severe water damage.
It's never a bright idea to turn a blind eye to what's happening in your attic; you never know what might be happening up there and how it might be affecting your home. No matter the case, if you experience mold or asbestos insulation, our team can arrive quickly to help.