3 Effects of Attic Mold on Your Property
Posted in Mold Removal, on August 17, 2022
---
Attics serve many purposes, like storage, an extra room, or some are kept empty. Regardless of how the attic is used, it's often less frequented than other parts of the home. Because of this, mold often grows in the attic, and attic mold removal is conducted long after the outbreak occurs. When there is a mold infestation, mold remediation in Toronto is vital when it comes to protecting your home.
Keep reading to learn about how attic mold may affect your home.
Attic Insulation & Mold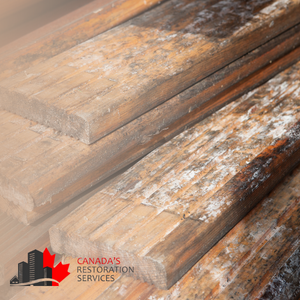 When insulation becomes wet from water damage, even if it's just a tiny leak, it will result in mold outbreaks and result in many problems. Mold will see cellulose attic insulation as a food source, so it will eat away at it and degrade your insulation over time. As a result, your insulation will be significantly less effective, causing inconsistent temperatures throughout your home, high energy bills, and constant drafts throughout the property. If you notice a part of your home is at a significantly different temperature than another, your insulation may be damaged due to mold infestations. To put the issue to rest, contact Canada's Restoration Services for a mold inspection and, if necessary, attic mold removal.
Wood Damage
Like damp cellulose insulation, wood is a primary food source for mold spores. When your attic has a moist environment, wood — perhaps even wood that has experienced water damage — will degrade and rot. Wood rot is to be taken incredibly seriously; it will lead to severe structural damage and, ultimately, will cause destruction in your attic. If you notice the distinct black patterns or spots on wood in your attic, or if you are greeted with the pungent odour of mold, you may have a problem. Before it gets too severe, contact the certified professionals at Canada's Restoration Services for comprehensive mold remediation in Toronto.
Compromised Air Quality
Mold is an indoor air pollutant and, depending on the species of mold, could release mycotoxins that will result in several health problems. These health problems range from fatigue, respiratory problems, skin and eye irritation, or, in serious cases, consistent migraines. Even if your attic is closed most of the time, mold spores will find a way to travel through your home through your HVAC system. If mold has infested your attic, not only will it cause structural problems and inefficient insulation, but it will affect your health.
How to Prevent Attic Mold
Mold spores will enter your home if it provides favourable conditions. These conditions include inadequate ventilation, sitting water from moisture, and degraded insulation. To keep mold spores in your attic at a minimum, your insulation should be replaced if affected by mold, proper ventilation, and roof leaks and water damage repaired.
Attic Mold Removal Services in Toronto
At Canada's Restoration Services, our IICRC-certified team of professionals will remove mold from your home, restore water damage, and help guide you in the right direction to keep mold infestations from coming back.
For effective and comprehensive services, contact Canada's Restoration Services.