We are a COR Certified Company!
COR Certified in Mold Remediation, Asbestos Abatement, Water Damage Restoration, Fire Damage Restoration and Construction
At Canada's Restoration Services we are proud to announce that we are a COR Certified Restoration Company.
What does COR Certified mean?
COR = Certificate of Recognition
This certificate is provided to companies who ensure the necessary elements of a positive workplace, behavior and practices to maintain an exceptional level of performance.
The Canadian Federation of Construction Safety Associations (CFCSA) has endorsed this infrastructure and it provides companies with the knowledge and tools to achieve national standards in a health and safety management system.
COR was originated in the province of Alberta and is mandatory for most projects through Alberta and BC; however, it will become mandatory throughout the country that companies be recognized as a COR company.
Being recognized as a COR certificated company allows for a pre-qualification to contractors across the country to know they are hiring a trusted source.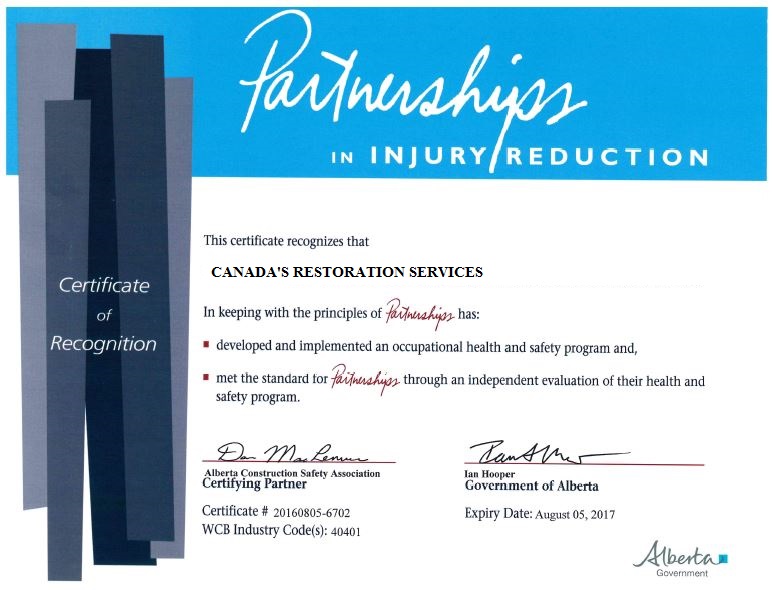 What you need to be COR Certified
Being a COR Certified Company, there are many components and key elements that we need to have in place and maintain when it comes to Health and Safety Practices within our Company. These cover all the necessary aspects to ensure that you as a company have the highest level of Health & Safety.
Audits are performed and a comprehensive review of the company's management system; ensuring that all the necessary aspects and elements are being followed.
By Following all of these key elements we ensure that our employees not only have the knowledge and training in all aspects of Health and Safety; but that the homes and properties we are working in are given the utmost care to ensure a healthy and safe living environment.