Mold Removal in Markham
At Canada's Restoration Services, we provide free mold inspections in Markham to our valued customers. We are an IICRC certified and insured company specializing in mold inspections and mold removal in Markham, Toronto, Ottawa, Montreal and Edmonton. With over 15 years of experience, our certified experts are highly trained and have conducted over 10,000 inspections and jobs nationwide. We provide transferable certificates on properties to new home buyers for mold remediation.

Book a free mold inspection
Mold Inspection in Markham
Our certified project managers have a minimum of 5 years of experience in the restoration industry. Once an inspection is booked, our project manager will arrive on site and evaluate the affected areas. A mold inspection will include an assessment, immediate recommendations to help stop the mold from growing, finding the source of the mold and detecting mold in hidden areas. Identifying if mold is present in hidden areas is essential to identifying the source of the mold and ensuring that once the source is repaired, mold will not return.
Following a mold inspection, the associated project manager will send over a detailed scope of work report. This report will outline:
our findings

recommendations

a plan of action moving forward

a free quotation
Mold Removal in Markham
Hiring the right mold removal company in Markham is a vital decision to make regarding your home or business. When choosing a mold removal company in Markham, it is essential to check for the company's license, qualifications, experience and reputation. A mold removal company in Markham who lacks experience, knowledge, skills or expertise can further damage your property. Mold removal professionals must be certified and trained in mold. Executing the mold remediation procedure must be done carefully and precisely. Without the training, experience or knowledge in mold and mold remediation, you are at risk.
Canada's Restoration Services performs mold remediation in homes and businesses all across Canada. Once an inspection is completed, our mold professionals are ready to begin mold remediation. The mold removal process begins with setting up a containment around the affected areas. A containment is used to prevent mold spores dispersing across the rest of your home or business.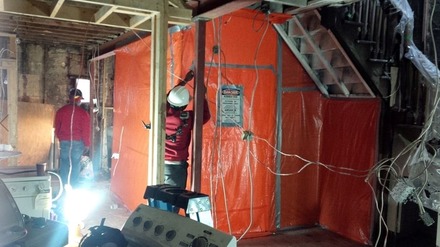 Once a containment has been set up, our mold technicians in Markham strategically place HEPA vacuums and air scrubbers inside and around the containment to capture the extremely tiny mold particles. All affected areas and items are scrubbed down, cleaned and restored using antimicrobial solution. The air is deodorized and cleaned and restored back to pre-mold conditions. We perform a secondary clearance test to guarantee that mold and all mold spores have been effectively and safely removed.
Call now and book a free mold inspection