Your Guide to Choosing an Asbestos Abatement Company
Posted in Asbestos Removal, on September 28, 2023
---
Asbestos is a hazardous material that was widely used in construction for decades, especially in the mid-to-late 20th century. Today, the presence of asbestos in older buildings poses significant health risks to occupants. If you suspect or have confirmed the presence of the mineral in your property with asbestos inspections in Toronto, abatement is essential. With strict local government mandates on the removal of the mineral, asbestos abatement requires directions from a certified and experienced restoration company in Toronto, like Canada's Restoration Services.
Learn what to look for in a restoration company for safe and effective asbestos abatement or removal services.
Why Choose a Professional Asbestos Abatement Company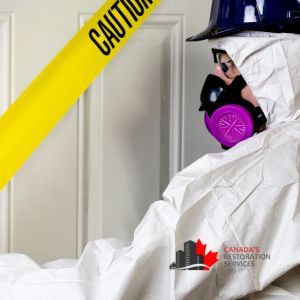 Asbestos is a highly toxic substance when disturbed, and its microscopic fibers, when inhaled, can lead to severe health issues, including lung cancer and mesothelioma. Therefore, the safe removal and disposal of asbestos by an experienced restoration company are critical for protecting your health and the environment.
Licensing and Certification
When searching for an asbestos abatement company, the first thing to look for is their licensing and certification. Legitimate asbestos removal companies should hold the necessary licenses and certifications to operate in your area. Canada's Restoration Services is certified by the Institute of Inspection, Cleaning and Restoration Certification (IICRC) and has obtained all the required licenses for asbestos abatement in Toronto.
Experience and Expertise
Experience matters when dealing with asbestos. You want a company with a track record of successful asbestos abatement projects. Canada's Restoration has over 15 years of experience in the restoration field and a team of experts who are well-versed in the latest asbestos removal techniques and safety protocols.
Comprehensive Asbestos Services
A reputable asbestos abatement company should offer a wide range of services, including asbestos inspection in Toronto, testing, removal, and disposal. Canada's Restoration provides a comprehensive suite of asbestos services, ensuring that every aspect of the process is handled with the utmost care and professionalism.
Safety Protocols
Safety is paramount in asbestos abatement. Look for a company that follows strict safety protocols and procedures to protect their workers, your property, and the environment. Canada's Restoration Services adheres to all safety regulations and employs state-of-the-art equipment and protective gear during asbestos removal.
Compliance with Regulations
The asbestos abatement company you choose should comply with local and federal regulations regarding asbestos removal. Canada's Restoration Services ensures that all our asbestos removal projects meet or exceed regulatory standards.
Transparent Pricing and Quotes
Transparent pricing and detailed quotes are essential to avoid surprises and hidden costs. Canada's Restoration provides clear and competitive pricing, ensuring you know exactly what to expect throughout the asbestos abatement process.
Positive Customer Reviews
Customer feedback can provide valuable insights into the quality of service provided by an asbestos abatement company. Canada's Restoration Services boasts a history of positive customer reviews and testimonials, reflecting their commitment to client satisfaction.
Choose the Best Asbestos Abatement in Toronto
Selecting the right asbestos abatement company is crucial for ensuring the safe and efficient removal of this hazardous material from your property. Canada's Restoration Services is a trusted restoration company in Toronto, fulfills all the essential criteria for a reliable asbestos abatement partner.
To get asbestos removal completed safely and effectively, contact us today.