Will a HEPA Filter for Your Furnace Help Asbestos Removal in Toronto?
Posted in Asbestos Removal, on October 01, 2021
---
If you're working on something as simple as routine maintenance or as extravagant as a remodel, you risk running into the hazardous material found in many building materials - asbestos. Discovering that there is a risk of asbestos around your property, especially in your immediate vicinity can be incredibly scary. Many property owners react by looking up quick options for asbestos removal in Toronto and learn that HEPA filters have the potential to remove hazardous fibers from the air.
While there are a few ways you can deal with asbestos, the most important response is to call a professional, like Canada's Restoration Services, for a comprehensive property inspection and asbestos testing in Toronto. Once asbestos removal is complete and the risk of exposure is eliminated, then you can talk to your asbestos abatement specialist about the benefits of HEPA filters.
If you want to explore the option of a HEPA filter, here's what you need to know.
What is a HEPA Filter?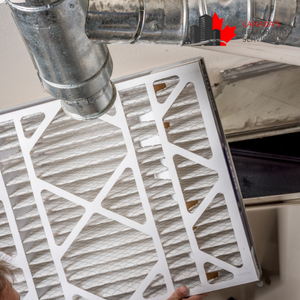 A HEPA filter is a "high efficiency air particulate" filter. It improves indoor air quality by eliminating traces of ultrafine contaminants that lurk in the air, such as dust and pollen. HEPA filters can remove over 99% of particles that are about 0.3 microns or larger, making them a key component to air purifiers and asbestos removal in Toronto.
At Canada's Restoration Services, we use HEPA filters after asbestos testing and abatement to ensure no remaining airborne asbestos fibers linger in the space, ensuring the most comprehensive removal.
Was Asbestos Used in Furnaces?
Before the widespread knowledge and understanding of the health implications of the dangerous mineral, asbestos was used in furnaces for its fire-resistant properties. Under extreme heat, asbestos fibers were durable enough to insulate furnaces. When furnaces undergo maintenance or ducts are sawed or cut into, asbestos can be disturbed. Before beginning work, conduct asbestos testing in Toronto to maximize safety.
Can HEPA Filters Be Used In The Furnace?
In most cases, a HEPA filter cannot be installed with your furnace. If they were, HEPA filters would reduce airflow to air ducts and ultimately vents, which is an important system for home air quality. Furnaces are equipped with filters that effectively remove contaminants in the air, but if you're concerned about asbestos, you can install a HEPA filter elsewhere in your home.
Before proceeding with any do-it-yourself tactics for asbestos removal in Toronto, call Canada's Restoration Services for a home inspection and asbestos testing.
HEPA Filters For Asbestos Removal
While HEPA filters can effectively capture asbestos fibers from the air, it does not eliminate the source of asbestos. This means that without certified asbestos removal services, occupying a space that has not undergone asbestos testing or removal still presents a significant risk for asbestos exposure. Inhalation of asbestos fibers can lead to long-term chronic illnesses like mesothelioma and lung cancer.
If you suspect that there are asbestos-containing materials in your property such as insulation, drywall, tiles, roof shingles, or pipes, call Canada's Restoration for a complete inspection. Our team of IICRC certified asbestos removal specialists has decades of experience and expertise in safely handling asbestos.
Contact us today to book an asbestos inspection.