Why Your Basement May Need Mold Removal?
Posted in Mold Removal, on April 21, 2023
---
Mold is a homeowner's worst nightmare, especially when in your basement where it can be a challenge to detect and to track as it moves throughout your property targeting areas that are not used on a daily basis. Unfortunately the longer mold detection takes, the more expansive outbreaks will become causing increased mold removal costs. The ability to understand why mold is in your home will help you respond effectively, preventing large scale outbreaks, and empowering you to call in the professionals for mold removal in Mississauga promptly. When you suspect your basement has become infested with mold, call Canada's Restoration Services for expert mold removal services from our team of IICRC-certified technicians.
Explore the reasons why your basement may be affected by mold.
Poor Ventilation and Leaks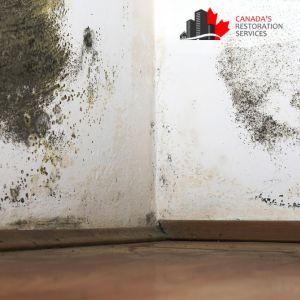 Mold spores are harmlessly moving around indoors and outdoors all of the time. Mold doesn't cause an issue until it settles indoors on a surface that it begins to colonize. That's why areas with poor ventilation are more prone to mold, as there is no air or circulation to move the spores out of the house. Basements often have poor ventilation, with smaller windows and no doors leading outdoors. Inadequate ventilation also causes moisture to build up, further contributing to mold growth. Mold absorbs moisture which helps the spores to grow and replicate further.
Leaks often occur in the basement, which also adds moisture to the area, which further supports the growth of mold. The leaks in the basement can be from washing machines with faulty parts, leaky pipes or even backup from floor drains. Due to a lack of ventilation, moisture can get trapped in the basement, creating an ideal mold growth environment. Leaks cause water damage, often leading property owners to need mold removal services in Mississauga.
Insulation and Darkness
Darkness is also needed to spur the growth and spread of mold. Light actually inhibits the growth of mold. Because basements don't usually contain doors to the outside and basement windows are generally smaller, so light is limited into the basement, this helps to create a dark area for mold to thrive and grow.
Cellulose & Mold Growth
Organic matter is needed for mold to grow. So anything like wood, drywall or materials like cellulose insulation can become a nutrition source for mold. The issue here is twofold: these materials are often found in basements and create a positive environment for mold growth. Still, as mold infests these materials, they begin to rot and decay which is why you want to get ahead of a mold infestation to mitigate total mold removal costs.
Mold Removal Services in Mississauga
If you see or smell mold in your basement, you should contact a professional immediately to conduct an inspection. If you have had any leaks or water damage in the basement, don't wait and connect with a mold removal specialist. Canada's Restoration Services are skilled and trained to safely conduct mold remediation services in commercial and residential properties. Our experts will ensure all the mold removal is thorough and precise. Keep you and your family safe, and contact Canada's Restoration Services now to make the entire process worry-free.