Why You Should Never Avoid White Mold Removal in Toronto
Posted in Mold Removal, on June 09, 2022
---
Whether in your home or commercial property, mold can sneak up on you when you least expect it. There are many species of mold, with the most notable being black mold which infamously releases toxins causing severe illness. But, black mold isn't the only mold you should be on the lookout for; more than 500 species have been identified via professional mold inspections in Toronto. White mold can be just as harmful as other, more commonly known, species of mold, so taking action right away is the best idea. At Canada's Restoration Services, we can help you manage mold removal costs with free inspections in Toronto.
Below we discuss why it's crucial to never underestimate white mold when it infiltrates your property.
How to Identify White Mold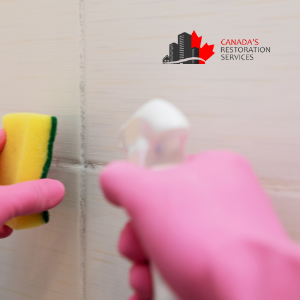 Many people will have to deal with mold once or more in their lifetime - it's quite normal. The best way to be rid of mold completely and manage mold removal costs is to act fast. Since some mold is not detectable until it becomes visible (condition 3), your first step to a mold-free home is to schedule a mold inspection in Toronto. If you notice any of the following signs, you can call us any time of the day.
Colours: Mold can appear white, grey, or green depending on the type of surface has the infection.
Odours: The smell of mold is strong and will worsen each day left unattended. The scent is earthy, musty, and could smell like rotting wood. Another indicator is if your ac or heating smells musty, as vents are a significant source of mold growth.
Texture: It is advised not to touch mold, especially without gloves on, but mold is usually visibly fuzzy or velvety
Patterns: Mold typically appears irregularly with staining and is often spotted.
The Dangers of White Mold in Your Home
White mold in your home is pretty common amongst residential and commercial properties. Studies have shown that an average of 70% of homes need mold remediation. Mold not only affects items in your home, but it also affects your family and their health.
Health Risks: Mold is dangerous to breathe in and can put people at risk if it is not removed as soon as possible. Allergy-like symptoms include coughing, shortness of breath, and tightness in the nose and throat. If white mold is unnoticed for an extended time, symptoms may include respiratory infections, eye irritations, dizziness, nausea, headaches, and even depression.
Property Damage: The longer you wait, the more damage you will have. Wallpaper peeling, soft floors, black grout in showers, and more are just some indicators of property damage caused by mold.
White Mold Removal at Canada's Restoration Services
Making sure your home or commercial property has been inspected for mold should be on your to-do list annually. Mold testing should be performed by a professional to ensure proper inspection. Additionally, if you experience heavier rainfalls or humidity than usual, you may want to consider a second inspection during the storm season. Fungi grows in dark, damp locations, so the more moisture in your home, the more you are at risk for an infestation of white mold.
Canada's Restoration Services offers FREE in-home mold inspections.