Why You Need Asbestos Testing Before Your Summer Renovations
Posted in Asbestos Removal, on June 15, 2023
---
With the summer underway in Canada, so is renovation season. Many people rush to get their new renovation projects finished so they're able to enjoy their new and improved property by the time winter rolls around. However, with demolition and construction comes many problems and hazards that owners need to be vigilant about, like asbestos. At Canada's Restoration Services, we know that asbestos is tricky, especially when finding it. If you suspect asbestos is lingering in your property, reach out, and we'll conduct a full range of asbestos abatement services. From asbestos testing in Toronto to removal and disposal, Canada's Restoration Services is here to help.
Here's why you need to conduct asbestos testing in Toronto before beginning renovations.
What is Asbestos?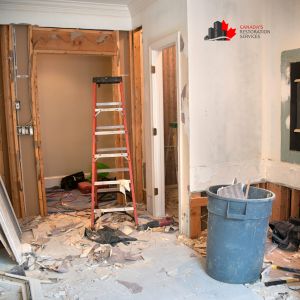 Asbestos is a natural mineral used among building materials in commercial and residential properties. Asbestos has six types: amosite, anthophyllite, tremolite, crocidolite, actinolite, and chrysotile. While all types are found in properties, chrysotile is most commonly found. When you discover asbestos in your property, it needs to be tested to determine the type and immediate hazards it presents. For comprehensive asbestos testing in Toronto and the surrounding area, contact Canada's Restoration Services.
How Construction Triggers Asbestos
When asbestos is friable, it can become airborne with ease. So, when you begin your renovations this summer, you may cause those fibres to become disrupted and airborne. Any small disturbance, like drilling, cutting, or sanding, could cause the tiny fibres to become airborne. Non-friable asbestos, which is found in vinyl floor tiles, there's still the possibility for the fibres to linger in the air. However, triggering exposure to non-friable asbestos requires more intense activities, like demolition or sawing. Because exposure can happen quickly and easily, asbestos abatement before you start renovating is critical.
Where Asbestos Might Be
Asbestos is likely found in materials like drywall, pipe wrapping, vinyl, and insulation — meaning it could be anywhere on the property. Commonly, though, it's found in attics, basements, around plumbing systems and in HVAC systems. Asbestos is a strong, fire-resistant and heat-resistant mineral, making it an accessible and durable addition to plumbing and insulating materials. Also, because of its strength, asbestos floor tiles are popular. If you have vinyl or linoleum floor tiles, and your property was built before the mid-1980s, there may be asbestos. Before demolishing your tiles and replacing them with a new and improved floor, contact Canada's Restoration Services for an asbestos inspection.
The Risk of Asbestos
When asbestos fibres are inhaled, they become attached to our lungs, which can result in numerous health problems. Sometimes, the symptoms don't appear until decades later, making it hard to know when you've been exposed. Asbestos exposure has previously been linked to lung scarring, cancer, mesothelioma, and asbestosis. To guarantee your health, prevent asbestos exposure from the get-go with asbestos testing.
How Canada's Restoration Services Can Help
Before renovations start, protect yourself and your property by contacting a professional for asbestos testing and removal. At Canada's Restoration Services, our team will conduct a comprehensive action plan to safely and effectively remove all traces of asbestos. Once we're done, you can begin your renovations with peace of mind.