Why Spend on Mold Removal Costs?
Posted in Mold Removal, on April 18, 2023
---
When the true extent of an outbreak is uncovered, some property owners may find themselves looking at options for do-it-yourself mold removal in Toronto. While the initial spend on mold removal sprays and labour savings may mitigate some mold removal costs, you are likely to find yourself dealing with mold again in the near future. With professional mold removal services from a leading restoration company in Toronto you can decimate mold colonies, protecting your property and indoor air quality.
Not sure if you should spend on mold removal costs, read on to learn more.
Mitigate Mold Exposure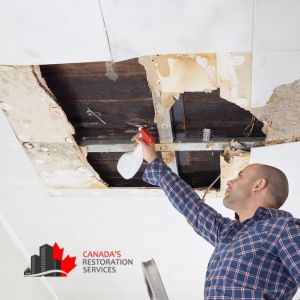 When mold colonies form they release spores and replicate very quickly in areas with excess humidity and organic matter. As they linger and duplicate, mold spores release mycotoxins, a toxic substance that infects the air. Depending on the species of mold in and around your property, the more harmful the effects of exposure to mold. In the case of toxic black mold, exposure can result in severe side effects such as headaches, nausea, asthma, and in extreme cases even memory loss.
With Canada's Restoration Services' mold removal costs, you can also opt for mold testing in addition to remediation. Our IICRC-certified technicians will determine the species of mold on your property and use safe techniques to remove it and prevent exposure.
Avoid Repeat Mold Outbreaks
Mold can be tricky, it creeps its way into hidden surfaces, especially porous materials. When do-it-yourself mold removal in Toronto is attempted, eliminating the entire outbreak can be incredibly difficult without professional equipment and a strategic approach. Porous materials that mold spores are often attracted to like drywall, wood, and even fibrous carpets can hide the severity of infestations. When an entire outbreak is not detected, remnants of mold can begin to replicate soon after DIY mold removal is complete, leaving your property susceptible to a new onset of mold.
When you invest in mold removal in Toronto from restoration leaders at Canada's Restoration Services, you can count on a comprehensive approach to remediation starting with mold inspections and testing, followed by removal and cleanup. This holistic and systematic mold removal process means that the full scope of an outbreak will be addressed. Our technicians leverage experience, expertise, training, and industry best practices to ensure that your property is mold-free and healthy.
Safer Indoor Air Quality
As mentioned above, mold infestations can have significant health effects. In some cases, exposure to mold will be as mild as a cough or rash, but as air contamination worsens, the symptoms associated with mold can become more severe. When you choose a restoration company in Toronto that focuses on customer well-being and effective results like Canada's Restoration Services, you can count on our team to follow up mold removal services with air quality testing. Our team will check indoor mold counts compared to natural level to ensure that your property is safe to reinhabit.
Trusted Mold Removal Services
When it comes to mold outbreaks, don't give spores the chance to overtake your property. The team at Canada's Restoration Services uses the best equipment and a refined strategy to restore health to your property. To help mitigate mold removal costs, we offer free visible mold inspections within the Greater Toronto Area and the surrounding area.