Why Schedule Mold Inspections After DIY Leak Repair
Posted in Mold Removal, on June 13, 2023
---
Discovering a leak in your home is definitely a cause for concern. Not only does it jeopardize the structural integrity of your property, but it also creates the perfect environment for mold infestations. While DIY approaches to mold removal are admired, they are not always effective or safe. If you discover mold in your property, reach out to Canada's Restoration Services for a mold inspection in Ottawa, Toronto, or other major Canadian cities. To prevent mold outbreaks, contact a professional for water damage restoration when you spot a leak.
Here's why you should schedule a mold inspection after DIY leak repair.
Mold Growth After Water Damage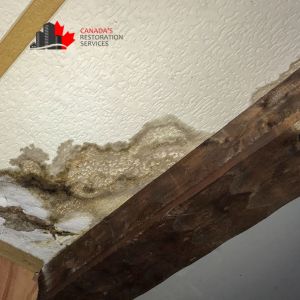 If you've experienced water damage, like a sump pump failure, a leak, a burst pipe, or excessive rainfall, water damage restoration should be completed as soon as possible. If not, the chance of widespread mold growth in your property is high. Mold needs moisture to grow, and a roof leak or water infiltration creates conditions conducive for infestations. Mold may also appear if you attempt to fix a leak on your own. While this may stop the leak, it doesn't dry out your property effectively. With professional water damage repair and restoration from the pros at Canada's Restoration Services, your property will be restored, and the risk of mold infestations will be minimal.
Where Mold Hides at Home
Mold often grows in dark, cramped spaces with little to no airflow, so it's hard to see in plain sight. Generally, you only spot it on walls after infestations spread to other parts of the home. Common areas where mold hides include basements, attics, crawl spaces, behind furniture, and ceilings. So, if you experience a leak in the ceiling, you may have extensive mold infestations in your attic, insulation, or in some cases, inside your walls. However, finding all sources of growth is extremely challenging. If you suspect mold is lingering in your property, contact Canada's Restoration Services for a mold inspection in Ottawa and the surrounding region.
Signs of Water Damage and Mold
There are numerous signs to look out for regarding water damage. If you have a leak, you may notice increased water bills, a loss in water pressure, puddles, and staining on your walls. Staining, bubbling of paint, soft baseboards and drywall are other significant indicators of water damage in your property. When it comes to figuring out if mold is present in your property, look for dark stains or patterns on your walls or ceiling, negative changes to your health, or a strong, pungent odour.
Why Schedule Water Damage Restoration and Mold Removal
When you experience water damage, conducting professional restoration and repair
immediately is imperative — ideally within 48 hours. With water lingering in your property, it usually only takes mold spores mere hours to settle and grow. Water damage restoration from Canada's Restoration Services minimizes the chance of mold growing after a leak or other types of water damage. If mold has infiltrated your property, our team of certified professionals will eliminate mold from your property and address all causes for concern.