Why Professional Services Are the Safe Approach Asbestos Removal
Posted in Asbestos Removal, on October 19, 2023
---
Asbestos is a harmful mineral that has been used in the construction of many public, residential, and commercial properties in Toronto and across Canada. Before construction can commence in Ontario, instances of asbestos must be addressed and eliminated effectively per local regulations and Ontario mandates by a professional restoration company in Toronto. Whether it's to save on asbestos removal costs or to eliminate asbestos quickly, do-it-yourself asbestos management is never recommended. The risk of asbestos exposure and adherence to local regulations are of the utmost importance. It is always safest to seek professional services from a trusted restoration company in Toronto, like the experienced team at Canada's Restoration Services.
Read on to learn why professional restoration services are the safe approach to asbestos removal in Toronto.
Prevent Exposure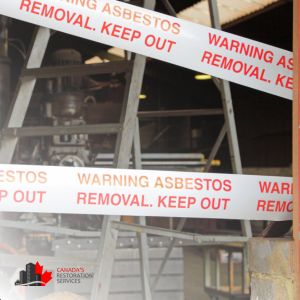 If not handled correctly, improper asbestos removal in Toronto can trigger the release of asbestos fibers, which can ultimately lead to illnesses like Mesothelioma. For the safety of workers and occupants of any property, we recommend asbestos removal services from a recognized and experienced restoration company.
How Does Exposure Occur?
Asbestos is a fibrous material. Each strand of the mineral is extremely sensitive to touch and can quickly become airborne from physical contact such as sawing, wetting, air pressure, and other triggers. Without the expertise of a reliable restoration company, DIY asbestos removal in Toronto can easily result in these harmful fibers going airborne. As they infiltrate the air, asbestos particles divide rapidly into smaller and smaller strands, which makes them easier to inhale or ingest unknowingly. Once asbestos enters the body, it can do serious damage.
How Professional Restoration Companies Prevent Exposure
At Canada's Restoration Services, we follow strict guidelines and best practices to mitigate the repercussions of asbestos. When you invest in professional asbestos removal costs, you can be confident that our team uses advanced abatement equipment, including industrial HEPA filters, to clear harmful airborne particles. Our team also performs meticulous risk assessments to ensure that all asbestos-containing materials required to be removed are handled. As per regional guidelines, we will restrict affected areas and leverage the appropriate signage to ensure that only authorized personnel are in designated areas. When conducting asbestos removal services, our team will also wear personal protective equipment that keeps fibers from affecting our technicians. This protective gear, which includes disposable jumpsuits, gloves, and respirators, also prevents cross-contamination, ensuring that the fibers don't stick around after asbestos removal in Toronto is complete.
Follow Legal Requirements
Because asbestos is a designated substance in Ontario, there are legal guidelines on handling any encounter with the mineral, from detection and abatement to disposal. When you leave asbestos removal to an experienced and knowledgeable team, you can be sure that each step of the process complies with these regulations.
Why Work with Canada's Restoration Services
For over 15 years, Canada's Restoration Services has been a leading restoration company in Toronto, Mississauga, Ottawa, Montreal, and other cities nationwide. We have earned our reputation as an industry leader for our smart practices and effective results for everything from asbestos abatement to mold removal.
To get started, contact us today.