Why CRS is the Best Mold Removal Company in Toronto
Posted in Mold Removal, on February 15, 2021
---
When you hire the best mold removal company in Toronto, your home will be remediated quickly, effectively, and professionally. That's why so many local homeowners have been choosing Canada's Restoration Services as their first choice for mold removal in Toronto.
We have well over 500 customer reviews on the HomeStars platform, with an average rating of 9.7 (out of 10). That's a glowing endorsement from a wide range of residential and commercial customers. And it's a reflection of our number one company priority – customer satisfaction.
Mold infestations are a challenge for any homeowner – and mold will grow just as easily in a new home as it does in an older home. The best approach, whatever the scope of the infestation, is to choose a professional mold removal company to ensure the best overall results.
On-site Service within 45 Minutes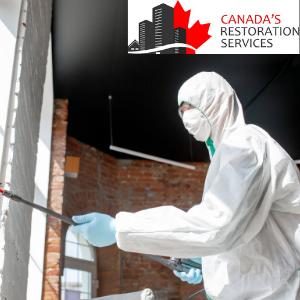 When urgency requires, Canada's Restoration Services can be on-site in less than an hour. We remediate mold in residential attics, commercial buildings, and even "grow operations." Our mold technicians are IICRC certified and highly experienced with every aspect of mold remediation.
24/7 Services When it's Required
Canada's Restoration Services has a particular company division that works round-the-clock to remediate all mold-related issues. With certified technicians on every job, we follow industry guidelines and safety protocols to guarantee safe, effective mold removal. We service customers from Montreal to Vancouver.
Special COVID 19 precautions
At CRS, we're currently taking extra COVID 19 precautions to ensure customer safety. We're making every effort to keep employees and customers as safe as possible while creating a workspace that reflects the highest standards. We're also verifying our employees' health status.
Deciding on the DIY approach
Property owners considering a DIY approach with mold removal should think twice. This is work that requires a professional mold removal company that can guarantee long-term results. More importantly, mold removal professionals provide an assurance that mold growth will not recur.
Professional Mold Remediation
CRS provides a professional approach with mold removal and remediation – from identifying the cause of an infestation to offering remedy options to expediting the safest, most effective cleanup. We also recognize associated physical damages and provide the necessary restoration work.
Professional Mold Removal in Toronto
Homeowners requiring mold removal in Toronto can rely on Canada's Restoration Services team for complete satisfaction on their project. Our certified technicians are experienced in every aspect of mold remediation – from inspection, to removal, to disposal, to restoration.

When urgency is required, CRS has a dedicated construction division providing "round-the-clock" service in emergency situations. Find out more about all of our services by calling 1-888-551-0514 directly.