Which is Worse: Black Mold or Asbestos?
Posted in Asbestos Removal, on March 22, 2022
---
Black mold or asbestos are two dangerous air contaminants that can affect any building and its occupants. What's scary is that you may not be able to see it, but their presence can only be realized when experiencing several different symptoms. While asbestos is manually installed, mold is a natural invader. Both operate differently, but each presents its own set of unique and severe health hazards. One thing that they share in common is that both should be professionally removed.
But the process of asbestos removal in Toronto is different from mold removal in Toronto. There are specific measures professionals at Canada's Restoration Services take when dealing with mold and asbestos. More than likely, these are measures and practices that only professionals have experience in executing. This blog will outline the dangers of black mold and asbestos and why removing both should be left to the experts.
What is Asbestos?
For much of the 20th century, asbestos fibres were commonly used to fortify materials in construction and the trades. The mineral was used across several different sites and workplaces, where it was commonly mixed into various materials to improve insulation, fire resistance and durability.
But by 1980, the dangers of exposure to asbestos fibres became more apparent, resulting in the mineral being virtually banned. When inhaling asbestos fibres, you are at great risk of developing many different lung and respiratory-related illnesses, with the most common being malignant mesothelioma cancer. Despite its discontinuation, asbestos-containing materials still linger in many older properties. These materials are most likely in a friable condition by now, meaning that they can be easily disturbed and send harmful fibres airborne. It can be found in insulation, ceiling or floor tiles, drywall and more.
This is why asbestos removal in Toronto should be handled by professionals at Canada's Restoration Services, as our technicians are equipped with the expertise and knowledge to risk disturbing any asbestos-containing materials.
What is Black Mold?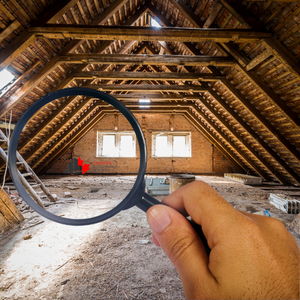 Black mold can occur in a moist area of any property, whether it be a commercial building or a household. This fungus will release toxic spores into the air, and when inhaled, you develop allergy-like symptoms. This includes headaches, dizziness, shortness of breath, itchy eyes and a runny nose. These symptoms can worsen during the winter months, as you spend more time inside with little airflow. If these symptoms are experienced while at your property but disappear when you're not, you may be dealing with black mold contamination.
Without mold removal in Toronto, symptoms can become worse as exposure is prolonged. You may experience frequent migraines and headaches, fatigue, joint pain, vertigo and colds. There are instances where the spores can grow in your lungs or sinuses, resulting in severe infection or a respiratory illness.
Mold growth typically occurs due to a build-up of moisture, which may indicate that your property is suffering from a water leak or water damage. Even if you can't see the mold, it doesn't mean it's not there. It may be hiding in out-of-site spaces, such as your attic, crawl space, basement, behind your walls or beneath your floorboards. Contact an expert at Canada's Restoration Services to help pinpoint the black mold contamination on your property and determine the scope of its hazards.
Removing Mold and Asbestos in Toronto
At Canada's Restoration Services, our approach to dealing with asbestos or black mold begins with a careful inspection of your property. For mold, our team will comb your home and check mold-friendly rooms. We identify the source of the outbreak and its scope. We then take samples of the mold in question and send it to a third-party lab for verification, which helps inform our technicians what the removal process will look like.
A similar approach is taken with asbestos testing. We analyze the entire property and determine the source of asbestos contamination. Samples are also taken to a third-party lab to help guide our team in the removal process.
Have questions about either mold or asbestos removal?