Where Was Asbestos Used in Heating Systems
Posted in Asbestos Removal, on December 02, 2021
---
Asbestos and insulation go hand in hand. The durability and heat protecting properties of asbestos was a primary reason as to why it made its way into many of Canada's commercial and residential properties between the 1960s and 1990s. Without professional asbestos testing in Toronto, there's often uncertainty about whether the mineral is hidden in the property's heating systems or if occupants are at risk of asbestos exposure.
To avoid any unpleasant surprises of discovering asbestos in heating systems, contact Canada's Restoration Services for asbestos removal in Toronto.
Where You Might Find Asbestos in Heating Systems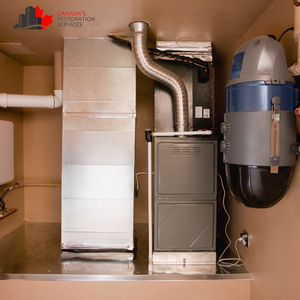 With the intention of reducing energy costs and preventing fires, asbestos was a top choice among contractors for heating systems and other building materials. As a result, the dangerous mineral can be found in many forms throughout hot water pipes, boilers and heaters, and heating ducts.
Hot Water Pipes: If you live in one of the city's older properties, it's in your best interest to conduct asbestos testing in Toronto for traces of asbestos around your pipes and approach the area with caution. Asbestos is often wrapped around the pipe and typically has a white or grey colour with a honeycomb design to it. While asbestos is very durable, it can deteriorate with age, and the slightest contact can cause fibres to become airborne. To avoid exposure, contact Canada's Restoration Services for asbestos removal in Toronto, before interacting with hot water pipes.
Boilers and Water Heaters: Asbestos around boilers and water heaters can be found in many forms and locations. It can be used as pipe wrapping, gaskets, sealants between pipes, or even raw asbestos as a filler around the water heater. Asbestos around hot water heaters usually looks like paper or crinkly cardboard. Generally, asbestos wrappings and blankets around pipes can be made up of 75% of chrysotile, the least harmful of all commercial types of asbestos. But chrysotile still poses a significant health risk and can't be identified without professional asbestos testing in Toronto. So, leave it alone until certified technicians arrive on scene.
Heating Ducts: Heating ducts can either be wrapped in asbestos insulation or entirely made up of asbestos-containing materials. Wrapping ducts in paper or asbestos was easier to apply, and upon asbestos inspections, it's more likely that this method will be found. Unlike ducts, asbestos wrappings aren't exposed to the air stream and have a lower chance of becoming airborne.
Can Asbestos Travel Via Ducts?
To put it simply, asbestos fibres only travel through ducts if it's disturbed. However, the likelihood of asbestos traveling through your heating system depends on the type of air duct. Ducts that are made up of asbestos-containing materials have a much higher possibility of becoming airborne as opposed to asbestos duct tape or wrapping. If you're under the suspicion that asbestos might be in your heating ducts, vacate the premises and contact Canada's Restoration Services for asbestos testing services. If necessary, our team will create an action plan to conduct comprehensive and safe asbestos abatement.
How To Contain Asbestos and Prevent Exposure
If you think there's significant amounts of asbestos in your heating ducts and want to try and contain it, you can seal the air ducts and vents, shut windows, tape the bottom of doors to prevent airflow through the home, and of course, contact trusted and certified professionals. Don't stay inside of a property, in which asbestos fibres are airborne. Our trusted and qualified team at Canada's Restoration Services can be at your home quickly, and we can provide in-depth and safe inspections.
Contact us today to schedule an asbestos inspection in the Greater Toronto Area.