When to Worry About Asbestos?
Posted in Asbestos Removal, on February 24, 2022
---
The word "asbestos" alone incites fear, and while being cautious is the appropriate response, you don't always need to worry about getting asbestos removal in your Mississauga home when you find out that your home was built during the peak of asbestos' popularity. To manage concerns about asbestos, contact trusted abatement contractors for asbestos testing in Mississauga to determine whether you're actually in need of asbestos removal in Mississauga from Canada's Restoration Services.
Here's what you need to know about managing asbestos in your commercial or residential property.
What is Asbestos?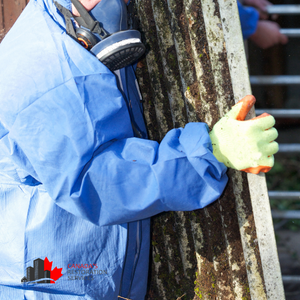 Asbestos is a naturally occurring mineral discovered to be an excellent building material in the 1960s. Asbestos was used widely due to its durability, strength, heat resistance, and flexibility. Due to these qualities, asbestos was often used in pipe wrappings, floor tiles, ceiling tiles, and insulation. Although asbestos isn't used anymore in building materials — it was federally banned in 2018 — there's still the possibility of it being found throughout older commercial and residential properties.
Who's at Risk of Asbestos Exposure?
If your property was constructed from 1970 to 1990, then it's likely that asbestos was used, and you could be at risk of exposure if you aren't careful or proactive. If you want to start renovations or just routine maintenance, contact Canada's Restoration Services for asbestos testing in Mississauga to ensure that your property is asbestos-free and safe. If our team of certified professionals happens to uncover the hazardous mineral, we'll carve out a comprehensive plan of action for asbestos removal in Mississauga, where we guarantee that asbestos will be eradicated entirely from your property.
Several occupations are at risk of asbestos exposure if proper precautions aren't taken; plumbers, miners, trade workers, and construction workers are all at risk of encountering the hazardous mineral. Plumbers and construction workers have the highest chance of uncovering asbestos during renovations or maintenance due to asbestos being common in pipes, plumbing, drywall, and floor tiles.
When to Worry About Asbestos
You only need to worry about asbestos when you find it disturbed or crumbled; this is when the fibres become airborne and pose a health risk. Generally, asbestos fibres are hidden behind walls, sealed within floor tiles, or isolated in attics. If left undisturbed, asbestos fibres won't be inhaled; however, with construction or renovations in the property happening, it may easily occur. In the instance that asbestos is discovered, and it's found to be crumbling or falling apart, the area with asbestos-containing materials will need to be sealed off, and the asbestos will need to be immediately removed by professionals.
How to Make Your Property Safe
If you reside in a property from the 1980s or manage an old commercial building, it's in your best interest to contact professional asbestos abatement contractors to do visual checks and thorough asbestos inspections to determine if asbestos is lingering beneath the surface.
To keep your mind at ease and avoid any unpleasant surprises, contact Canada's Restoration Services for asbestos inspections and testing before you start any renovations or maintenance in your home. Asbestos could be uncovered at any moment, and getting a professional opinion before renovations commence is the best way to guarantee your health and safety.
Get started today with an asbestos inspection: