When to Choose Shower Mold Removal Services over DIY
Posted in Mold Removal, on December 09, 2022
---
No matter how regularly you clean your bathroom, it will always be a breeding ground for mold, especially if you have poor ventilation. Bathrooms are generally small spaces, so inadequate airflow, and high humidity trap mold spores, leading to mold outbreaks around your shower. If you encounter mold in your shower, a quick wipe with a cloth won't do. To properly eliminate shower mold, contact a restoration company for mold removal services. If you're unsure about the presence of mold, but want to guarantee your health, be proactive and contact Canada's Restoration Services for a mold inspection in Toronto.
To learn more about mold in your shower and how to go about removing it, read on.
Identifying Mold in Showers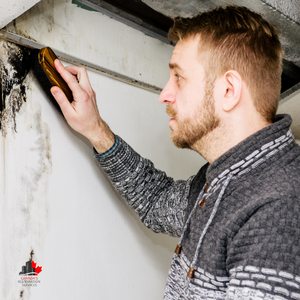 When identifying mold in your shower, keep an eye out for dark patterns in the corner of your walls, ceiling, or between the grout in tiles. With grout, however, it is tricky to spot, especially if the grout between your shower tiles is grey or black. Rather than trying to find visual signs of mold, you'll likely catch a whiff of its distinct and pungent odour. If you do, contact Canada's Restoration Services for a mold inspection in Toronto. Our team of trusted technicians will uncover all sources of mold in your shower and effectively eliminate it.
The Impact of Humidity and Ventilation
Undoubtedly, showers have the highest humidity levels in our homes, which is why mold infestations are so common there. Whenever you shut your bathroom door to shower, you're trapping all the moisture and humidity from your steaming shower in your bathroom. Because there's no airflow or ventilation, moisture will linger in your shower, pipes, or walls. This allows mold spores to settle, fester, and grow exponentially. To avoid the need for mold removal services in your shower, it's as simple as improving your ventilation and minimizing lingering moisture. Clean up excess water, open a window if possible, and install an exhaust fan. By boosting the ventilation in your small bathroom, you'll reduce the likelihood of future mold infestations.
Why DIY Removal Isn't Effective
While DIY mold removal isn't safe and puts you at risk of exposure, it's also not practical. While you may think you're eliminating mold from your shower with a quick wipe, it will grow back. Since the root cause of the infestation — poor ventilation and high humidity – has not been addressed, mold outbreaks will continue to pop up in your shower and bathroom. Additionally, DIY techniques generally fail to address hidden mold infestations. Chances are, if mold is growing around your shower, it may also grow within your walls and ceiling. To ensure all mold infestations have been eliminated from your property, a professional inspection is the way to go.
Professional Remediation Services
To ensure that your shower is safe from mold spores, keep ventilation high and humidity as low as possible. If you catch a glimpse of mold growing in your shower, contact a restoration company for a mold inspection and removal services.