What You Should Do About Bathroom Mold
Posted in Mold Removal, on October 28, 2023
---
When mold outbreaks appear in your home or business it starts to reproduce and spread rapidly. One of the most common areas targeted by mold is the bathroom for a number of reasons. While it may seem easy to deal with using over-the-counter mold removal sprays and other DIY mold removal techniques, outbreaks in the bathroom tend to linger and repeat without professional mold removal services in Toronto. If you've been struggling with mold in your bathroom, contact Canada's Restoration Services for reliable and effective mold removal services.
Here's what you should know about dealing with bathroom mold removal.
How to Spot Mold?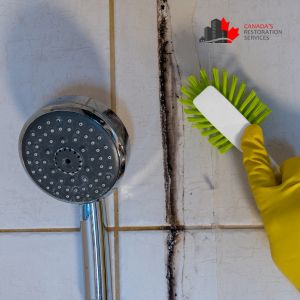 Not all mold outbreaks present the same symptoms. While they may be similar, it's important to recognize the signs of mold in your property and especially your bathroom. Early detection will empower you to get the support you need in a meaningful time frame from a restoration company near you in Toronto. Mold infestations in the bathroom will typically become visible very quickly, appearing as white, black, green, yellow, grey, or even brown staining along the surfaces. Mold tends to be found around the flooring, pipes, in the grout, and across the wall. If you have porous fabrics displayed in the path of a mold, your towels, robes, and carpets can all also be affected by expanding outbreaks.
Does Bleach Kill Mold?
Bleach is a commonly used disinfectant during bathroom cleaning and as a result many people attempt to remove mold outbreaks with the household product. While bleach may appear to remove mold infestations, it does not effectively eliminate mold spores. Instead, bleach and many other mold removal sprays that can be bought at local stores simply whiten mold spores and reduce their visibility. In most cases, especially when dealing with porous and organic materials like grout and drywall, the spores withstand the bleach and continue to spread.
The best approach to bathroom mold removal is not bleach or vinegar. It is professional mold removal with an IICRC-certified restoration company.
Why Is Mold Infesting Your Bathroom?
If you've been dealing with mold infestations in your bathroom, it's a good idea to understand what is causing them in the first place. Regardless of where an outbreak occurs, the initial conditions that trigger the outbreak are the same. Mold is attracted to moisture and cellulose. So when there is water damage, or excessive humidity, which is a common factor in bathrooms, mold is more attracted. The problem of moisture becomes worse when building materials like drywall become wet and ventilation is low. Insufficient ventilation prevents moisture from escaping and traps mold spores in the bathroom which encourages their proliferation. By monitoring humidity levels and cleaning up excess water and moisture diligently, you can minimize the chances of developing a mold outbreak. If you spot visible mold, contact Canada's Restoration Services for a mold inspection.
Protect Your Bathroom with Mold Removal Services
Mold in the bathroom can be hard to avoid and even more challenging to navigate. To keep your spaces healthy and mold-free, trust the professionals at Canada's Restoration Services.