What You Need to Know About Airborne Asbestos
Posted in Asbestos Removal, on November 09, 2021
---
Asbestos is a naturally occurring mineral that is known to have heat resistant properties and has been used in old homes for many years in the past. It is often mixed with other materials or fabric to create strong and durable products such as insulation. However, there's a tradeoff. Asbestos can be extremely harmful if inhaled. It is known – proven by many studies - to cause serious health conditions including but not limited to lung cancer, asbestosis and mesothelioma. Therefore, asbestos has now been banned by most countries. Asbestos removal services in Toronto exist for this very reason.
With IICRC Certified, trained technicians, and emergency services, Canada's Restoration Services aims to prevent exposure at work or at home. When you come to CRS for asbestos removal services in Toronto, we provide comprehensive asbestos inspections and asbestos testing in Toronto to effectively identify and remove hazardous materials on your commercial or residential property.
Read on to learn more about what airborne asbestos are, where they can be found, and how asbestos testing in Toronto can help.
Friable vs Non-Friable Asbestos?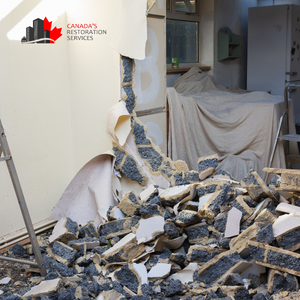 Friable asbestos is the type of material that can easily crumble the moment you touch it. This means it may release fibers if you crush, crumble or pulverize them. Non-friable is the opposite. Although this type contains the same fibers as friable asbestos, a slight change in fiber composition prevents it from crumbling when handled or touched.
How Does Asbestos Go Airborne?
Asbestos fibers are extremely small and can become airborne when it's released from exposed buildings or homes. Many studies have shown that even low levels of exposure may be harmful over long periods and in short distances. This is why it is best to completely seal off the exposed walls, where the correct PPE, and conduct professional asbestos testing in Toronto during home renovations and demos.
Different Types of Asbestos and Their Risk
While there is no circumstance where asbestos is not hazardous, the risk level increases depending on the type of asbestos present.
Chrysotile (White) Asbestos: Most homes contain traces of this type of asbestos. Unfortunately, due to its properties, it is not clearly visible. It can be found in roofs, ceilings and walls, and floors;
Amosite (Brown) Asbestos: Amosite asbestos can be found on cement sheets, pipe insulation, or ceiling tiles to enhance heat retention and fire-resistance.
Crocidolite (Blue) Asbestos: Crocidolite is a naturally occurring blue asbestos, commonly used as an insulator for steam engines. In addition to this use, it can also be found in spray-on coatings, plastics and pipe insulation.
How to Prevent Asbestos From Becoming A Threat?
There are a few things you can do to minimize the threat of airborne asbestos including wearing the correct PPE (gloves, respirator, hazmat suit), contain and vacate the contaminated area, and call for professional assistance from Canada's restoration for a full range of asbestos removal services in Toronto.
Asbestos Removal in Toronto from Canada's Restoration Services
Asbestos is an imminent health risk. If you suspect the mineral is in your property's building materials, you can rely on Canada's Restoration Services for safe, effective, and fast asbestos removal services in Toronto.
Contact us today to schedule a free asbestos inspection.