What to Know About Asbestos in Air Ducts?
Posted in Asbestos Removal, on August 19, 2021
---
Asbestos has become renowned for the danger it poses. However, to the surprise of many, it can still be commonly found, hidden in building material. Despite being banned in Canada recently, asbestos removal has not been mandatory if the material was sealed away. Although undisturbed asbestos typically does not create any immediate danger, the fibres from the mineral can quickly become airborne during renovations and routine maintenance. One play you are likely to find asbestos in your property is within the air ducts, so before you start any projects or repairs, it's in your best interest to contact Canada's Restoration Services for asbestos removal in Toronto & the GTA.
Because asbestos is typically beneath the surface of your property and considering its widespread use in building materials, it can be difficult to identify exactly where the mineral may be encountered or whether you're disturbing it. To be certain an inspection and asbestos removal in Toronto & the GTA from Canada's Restoration Services will effectively pinpoint, test, and extract asbestos safely from your property.
Read on to learn more about asbestos air ducts in Toronto.
Why Was Asbestos Used?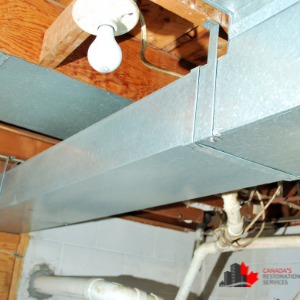 Asbestos is a natural material that can be mined in many parts of the world, Canada included. It peaked in the 1970s and was used in most construction products, such as insulation, floorboards, floor tiles, ceiling tiles, pipes, inside walls, and air ducts.
It quickly became popular because it was affordable, easily accessible, and incredibly durable with fire-resistant and waterproof properties. Because of its low cost, asbestos was used in all types of buildings — schools, hospitals, offices, hotels, and homes.
More particularly, asbestos can be found in air duct materials, such as sealing tape, wrappings, and ductwork connectors. Due to its heat-resistant properties, it was widely used in HVAC systems in residential and commercial buildings. Many homes built before the 1990s will still likely have asbestos in the air ducts, so if your property was built within that time period, it's important to leave call Canada's Restoration Services to determine whether you need professional asbestos removal.
How do I know if Asbestos is Airborne?
It's hard to know if asbestos fibres have been released. The mineral has no smell, no taste, and no distinct visual characteristics. If you fear there may be asbestos fibres in the air, call a professional to inspect your property and see if any asbestos containing materials are wet, broken, or damaged. Water leaks, crumbling ceiling or floor tiles, and tears in the wall could all lead to asbestos fibres becoming airborne.
The most cautious option is to seek out an experienced company offering asbestos removal in Toronto & the GTA, where specialists will be able to quickly identify and remove items contaminated with asbestos.
Asbestos Inspection and Removal
An asbestos inspection should always be completed before moving into a new space and engaging in any repairs or renovations. A certified asbestos inspection will help you efficiently find asbestos in heating vents and air ducts while also revealing other contaminated materials or areas you may not have known about.
Asbestos removal is an intricate, extensive job and must be done by an experienced and certified team. Canada's Restoration Services has been the industry leader for asbestos removal, and our certified and trusted team conducts thorough and safe asbestos remediation services.
If you encounter asbestos in your home, the safest thing to do is to leave the premises and only come back after you've had complete asbestos removal.
Get started today by contacting our experts to book an asbestos inspection in Toronto & the GTA.