What to Keep in Mind When Hiring a Professional Asbestos Abatement Contractor
Posted in Asbestos Removal, on September 17, 2021
---
If you're about to start a residential or commercial renovation or remodel, but you've stopped by the discovery of what could be asbestos, you'll need professional testing and asbestos removal as soon as possible. Getting trusted asbestos abatement contractors on-site urgently can limit exposure and ensure safe practices during the complicated asbestos removal process.
Finding the most trustworthy and reputable asbestos removal specialist can be overwhelming, so here are some tips to help narrow your search for asbestos abatement contractors.
Here are tips for finding the best asbestos removal company on short notice.
Look For a Full Range of Services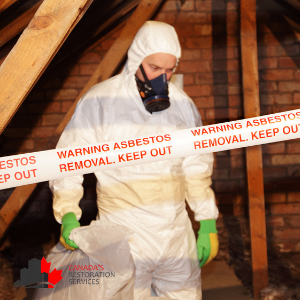 Asbestos removal is not a one-step process. To be completed properly, asbestos removal services should offer a full range of services. Canada's Restoration Services provides all the necessary asbestos remediation services: inspections, testing, removal, and clean-up to ensure your property is safe for occupation.
If you want to start a renovation or any kind of repairs within your property, it's always wise to do your due diligence — and asbestos inspections are definitely a part of that. Chances are, if your home is more than 30 years old, asbestos is likely present, but to guarantee everyones' health and safety, and asbestos inspection is well-advised, even in newer properties.
If found, our team will send off the samples for asbestos testing to a third-party lab to determine the type of asbestos and the immediate hazards it presents. Once our team has the result, we proceed with a concrete plan to effectively eliminate asbestos from the property.
Working with asbestos is a delicate and lengthy process and must be done by experienced asbestos abatement contractors. When our team completes an asbestos removal job, we conduct an air quality test to guarantee that asbestos is no longer airborne and completely clean up the area so you can quickly and safely continue with your renovation.
Check for Official Asbestos Removal Certifications
Working with asbestos is a serious matter, so always hire a service that's IICRC certified to ensure the best and safest results. Employees in an IICRC certified service must participate in ongoing training sessions and be informed of the latest guidelines in asbestos abatement. An IICRC accredited service ensures that asbestos removal is always safe and careful to protect you and your property.
Read Reviews from Customers
When it comes to someone entering your home and handling hazardous materials, trustworthiness and reliability are of the utmost importance. Customer reviews and testimonials will give you insight into what other customers experienced with their asbestos technicians, so you can assess for yourself. Canada's Restoration Service is a 5-Star removal service available across Canada.