What to Expect During a Mold Removal Service
Posted in Mold Removal, on September 29, 2023
---
The discovery of mold in your home is often a distressing experience, given the health risks and property damage mold can trigger. When confronted with a mold outbreak, engaging the mold removal services of a professional restoration company is essential. When you're struggling with mold the experts at Canada's Restoration Services are here to help. From start to finish our team of certified specialists will help you eradicate mold and reverse the damage with remediation.
Initial Mold Assessment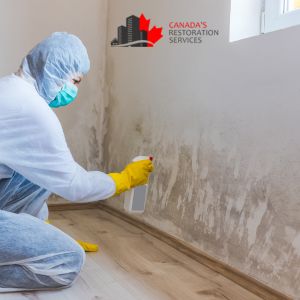 The process starts with a thorough inspection and evaluation of your property, conducted by our trained technicians. This initial phase is critical for gauging the extent of the mold infestation and identifying the specific type of mold present. During this stage, technicians will also pinpoint the sources of moisture responsible for mold growth. Detecting and rectifying these moisture problems is crucial in preventing future mold occurrences.
Implementing Containment Measures
One of the primary actions taken during mold removal is the establishment of containment measures. Mold spores are highly mobile and can readily spread to other areas within your dwelling if not adequately contained. To prevent such spread, technicians will seal off the affected area with plastic sheeting and may employ negative air pressure systems or vacuuming to ensure that mold spores do not escape into unaffected portions of the building.
Utilizing Personal Protective Gear (PPE)
Mold removal is a task that demands caution. To minimize the risk of exposure to mold spores and mycotoxins, technicians will don appropriate personal protective equipment (PPE). This gear includes gloves, respirators, and full-body suits to safeguard them while they work on eliminating the mold. Mold can cause serious respiratory diseases without it.
Mold Removal Techniques
The methods employed for mold removal are contingent on the scope and type of mold infestation. Common techniques encompass scraping, sanding, and the utilization of specialized mold removal chemicals. The primary objective is to physically eradicate the mold from afflicted surfaces. In instances where mold has penetrated deeply into porous materials such as drywall and insulation, it may be necessary to entirely remove these materials, followed by replacement.
Thorough Cleaning and Disinfection
Once the physical removal of mold is accomplished, meticulous cleaning and disinfection become imperative. This step guarantees the eradication of any residual mold spores and residues. Specially formulated cleaning agents designed to combat mold are employed during this phase, resulting in a hygienic and safe environment.
HEPA Vacuuming
High-efficiency particulate air (HEPA) vacuuming represents a pivotal stage in the mold removal process. HEPA vacuums are designed to capture minuscule particles, including mold spores and debris, ensuring comprehensive cleansing of the affected area. This step further minimizes the risk of mold resurgence.
Post-Removal Testing
Subsequent to mold removal, some mold removal service companies may conduct post-removal tests. These tests might include examinations of air quality or surface samples to verify that mold levels have been reduced to acceptable and safe levels. The results of these tests provide reassurance that the mold issue has been effectively resolved.
Preventive Measures
A reputable mold removal service such as Canadian restoration Services extends its services beyond mere mold removal by offering guidance on preventing future mold growth. This typically encompasses recommendations for addressing underlying moisture problems, enhancing ventilation, and maintaining a dry indoor environment. Implementing these preventive measures is crucial in averting future mold issues.
Remediation & Removal
In situations where structural elements or materials had to be removed during the mold removal process, you may require the help of a restoration company. Mold removal services may either provide or recommend restoration options to reconstruct and reinstate the impacted areas, thereby returning your property to its pre-mold condition.
Mold Removal Services with Canada's Restoration Services
Dealing with a mold issue can indeed be overwhelming. Nevertheless, having a clear understanding of what to anticipate during a mold removal service can alleviate some of the associated stress. It is imperative to select a certified and trustworthy mold removal service, such as Canada's Restoration Services to ensure the task is executed correctly and safely. It is worth noting that the complexity of mold removal can fluctuate based on the size and severity of the infestation, making it necessary to consult with professionals to create a tailored plan for your specific mold predicament. By hiring Canadian Restoration Services, you can be sure you, your family, and your home are in good hands.