What to Do When There is Mold in Your Insulation
Posted in Mold Removal, on April 01, 2022
---
Given the right conditions, many areas in our homes are prone to mold infestations, but attics may be the most commonly targeted space. Attics are humid, dark, and full of organic materials, like cellulose insulation, making them the ideal place for mold spores to settle and thrive. While you may not spend copious amounts of time in your attic, keep an eye, or nose, out for signs that you require attic mold removal. If you discover a mold outbreak in your attic insulation, contact Canada's Restoration Services for comprehensive and effective mold removal in Toronto.
Here's your guide to managing mold in your attic insulation.
Attic Mold Detection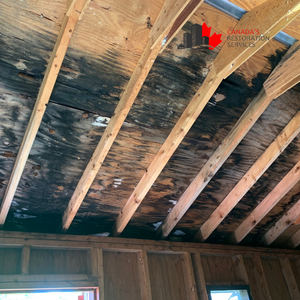 While the attic providers conditions that favour mold, you and most other homeowners typically do not spend much time there. So, to know when mold has invaded your home's attic, you'll have to may attention to the signs that present themselves elsewhere. Primarily, if you're greeted with the strong and unpleasant earthy odour, you can assume you'll need a mold inspection followed by attic mold removal in Toronto.
Mold and Ventilation
If you do happen to make your way into the attic, pay attention to the air. If your attic feels hot, stuffy, and the air feels stale, ventilation is likely low and the possibility of a mold infestation is high. With adequate ventilation, attics should have a slight breeze, but when there is insufficient ventilations or clogs, your attic will become humid allowing mold spores to settle and reproduce.
While mold growth is often found with our sense of smell, you may visibly spot it on your attic insulation — especially if it's damp. Depending on the type, mold growth on insulation typically looks green, brown, or black and will have a wool-like appearance. If you identify small mold colonies on your insulation, it's likely to infiltrate other parts of your attic.
It's safest not to go looking for attic mold on your own, the attic can be filled with hazards including mold itself. If you suspect there's mold hidden around your property that you can't see, call Canada's Restoration Services for inspections and attic mold removal.
Identifying Mold in Attic Insulation
Mold that infests your insulation can affect the heating and cooling in your home. As mold overtakes your attic with remediation, your insulation will likely become less and less effective resulting in drafts, higher utility bills, and inconsistent climates when you move from room to room. With attic mold removal in Toronto, your home can become decreasingly energy-efficient, costing you more on appliances and utilities every month.
Attic Insulation Mold Removal is Challenging
Mold growth on attic insulation is especially challenging due to the insulation's porosity. When mold spores settle on porous materials, they create roots within the material, so even if you wipe away the surface-area mold, it won't be eradicated entirely.
Don't Try DIY Mold Removal in Toronto
If mold has infiltrated your insulation, the safest mold detection and removal option is to contact a certified professional. If there is mold in one part of your home, it will likely spread to other parts of the property. Comprehensive mold inspections from Canada's Restoration Services will ensure that your entire property is thoroughly inspected for possible mold infestations.