What to Do About Mold In Your Bedroom
Posted in Mold Removal, on August 06, 2021
---
It's nearly impossible to stop mold spores from entering your home; whether it be through open windows, doors, or vents, mold is constantly circulating in our environment. When a mold inspection in Edmonton is performed, mold is often found in kitchens and bathrooms — anywhere that has excessive moisture. However, it's not uncommon to find mold in bedrooms; it can be hidden in the walls, carpets, closets, or even in the mattress. Keep an eye out for signs of mold and contact Canada Restoration Services for in-depth mould testing and inspections in Edmonton.
If you're unsure about mold in your bedroom, here are some tips for what to look out for and what to do.
Signs of Mold in Your Bedroom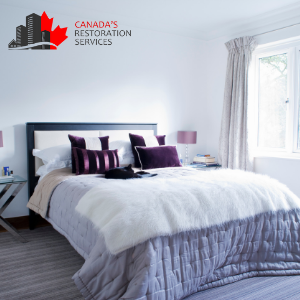 The smell of your bedroom will tell you right away if you're dealing with a mold infestation or not. Mold has a strong, pungent odour that persists even after opening windows and turning on diffusers.
However the telltale odour can sometimes be concealed under flooring and behind wallpaper, so it's helpful to pay attention to any physical symptoms of mold exposure you or your family may be exhibiting. Through touching and inhalation, mold can cause allergic reactions, like skin irritation, congestion, sneezing, and coughing. Mold in your bedroom can also compromise the quality of your sleep. Studies have found that household mold exposure is connected to insomnia, snoring, and excessive fatigue. To avoid any health problems from progressing, it's in your best interest to get a mold inspection in Edmonton as early as possible.
If you happen to notice any of these signs, contact Canada Restoration Services for advanced mould testing to determine the species infesting your bedroom and begin abatement.
Controlling Mold in Your Bedroom
Unfortunately, mold is tough to control because the spores can enter your bedroom quickly through airways, vents, windows or even attach themselves to clothes or pets. An efficient way to minimize mold is to control humidity levels in your bedroom and increase ventilation. Always keep a window open, a fan on, or you could go a few steps further by investing in a hygrometer or dehumidifier.
Since mold likes dark areas to grow in, keep furniture away from the wall, and make space between clothes in your closet. Always be diligent about cleaning up water spills, especially if you have an ensuite bathroom. Controlling the moisture and increasing ventilation reduces the probability of stray mold spores becoming full-blown infestations.
Getting Rid of Mold
When it comes to mold in your bedroom, assess the situation and clean up what you can on your own. For instance, non-porous materials and hard surfaces can be cleaned with chemical products or a bleach solution. Be cautious and always wear protective gear like gloves and masks. In many cases mold is found hiding beneath carpets, in walls, panelling, and ceiling tiles, so the safest and smartest thing to do is hire a professional service.
Canada Restoration Services provides free comprehensive mold inspections in Edmonton. Our team of experienced technicians are skilled at finding mold in any room of your home and eliminating it quickly and effectively.
Contact Canada Restoration Services to book your mold inspection today.