What to Do About Asbestos in Toronto Rental Properties
Posted in Asbestos Removal, on November 26, 2021
---
Before the health effects of asbestos were widespread knowledge, the hazardous mineral was widely used for its beneficial properties and affordability. Today, asbestos can be found in countless locations throughout residential buildings and rental properties. As a result, residential asbestos removal in Toronto is a common necessity. If people occupy the same space as asbestos, it can lead to exposure and health effects associated with the hazardous mineral. To prevent exposure, Canada's Restoration Services provides a full range of asbestos removal services from asbestos testing in Toronto to complete removal for your residential property.
Landlords' Safety Responsibility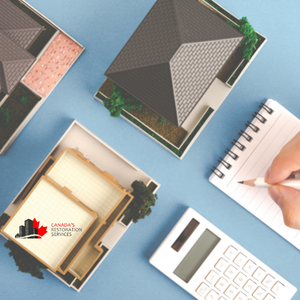 To put it simply, tenants have the right to a liveable home. According to Regulation 278 of the Occupational Health and Safety Act of Ontario, owners must manage and deal with asbestos throughout the property to guarantee the health and safety of the tenants. Asbestos management includes routine inspections by qualified professionals that identify any possible asbestos-containing materials throughout the building, and the inspection report must be placed into official building records. However, there are exceptions to what kind of buildings need asbestos removal in Toronto, such as residential units that contain no more than four units, one of which is owner-occupied, and private, owner-occupied residential units. Professional asbestos inspections and asbestos testing in Toronto from Canada's Restoration Services will quickly identify traces of asbestos on site.
When Planning a Renovation
On the condition that renovations are planned, the appropriate response from landlords, according to subsection 10 of Regulation 278, is to obtain an official substance report from certified professionals. The report should detail if asbestos is present. If it is, asbestos removal in Toronto must be conducted, and all tenants must be informed as to where the asbestos is within the building. In addition, the report should detail the types of asbestos found, seeing as each type has varying risk levels.
Chrysotile and amosite asbestos were the most common forms used in building materials, but they have different properties. Because of its flexibility, chrysotile was used in wrappings and floor tiles. The amosite's heat resistance makes a great fit for insulation, pipe wrapping, and ceiling tiles. While they have differences in appearance, it's virtually impossible to identify the type of asbestos in a rental property without professional asbestos testing in Toronto.
If your tenant has expressed concern about asbestos in their rental, do not start renovations before taking the appropriate action -- inspections, testing, and abatement -- to ensure that occupants will not be exposed.
What is Your Due Diligence?
Unfortunately, there is no definitive guideline on when landlords must provide official substance reports before renovations begin. If no report is submitted, tenants can file a complaint to the Occupational Health and Safety division. If tenants aren't aware of asbestos in their unit, they could be exposed through routine maintenance or simple home projects, which can have dire consequences. To be safe, stay on top of asbestos with professional support from one of Canada's top asbestos abatement contractors.