What Property Managers Must Know About Asbestos Removal in Toronto
Posted in Asbestos Removal, on January 29, 2023
---
Property managers are responsible for multiple units and many occupants, whether tenants or condo dwellers. To ensure that these properties and people are well cared for, property managers are tasked with constantly upkeep properties and protecting them, which includes asbestos management and asbestos removal in Toronto.
When the risk of asbestos exposure presents itself, it's critical that inspections and asbestos testing in Toronto are scheduled right away. Ontario regulations mandate the removal of all instances of asbestos-containing materials of more than 0.5%. With asbestos testing and inspections at Canada's Restoration Services, asbestos removal in Toronto is an efficient and streamlined process.
Read on to learn about the basics of asbestos for property managers.
Where and When Asbestos Was Used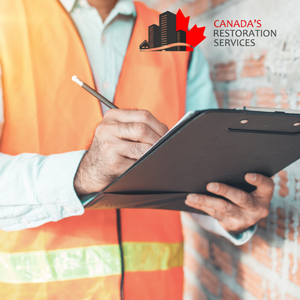 Asbestos can be found in both commercial and residential properties in Canada, especially those built in the mid to late 20th century. Due to its accessibility, affordability, flexibility, heat resistance, and longevity, the hazardous mineral is present in many properties across the country. However, newly built properties in Canada will not have asbestos. As people realized the severe health effects of asbestos exposure, using it in building materials became unsafe, and its usage declined. As of 2018, asbestos was federally banned in Canada.
Where to Find Asbestos in Properties
Asbestos has the potential to be found throughout all properties. Common places to encounter asbestos include insulation, drywall, popcorn ceilings, tiles, ducts, pipe wrappings, and around plumbing materials. Because of its strength and insulating properties, it can withstand high foot traffic and high temperatures. Property managers or owners can schedule asbestos testing and inspections with Canada's Restoration Services to identify all traces of the mineral before proceeding with on-site maintenance or construction.
Actions That Trigger Asbestos Exposure
Maintenance and renovations are the two main activities that will trigger asbestos disruption and, as a result, exposure. Before beginning any renovations or maintenance that include sawing, drilling, sanding, scraping, or changing insulation, contact Canada's Restoration Services for an asbestos inspection and asbestos testing. Properties built in the mid to late 20th century are more likely to be contaminated with asbestos-containing products, so conducting renovations or maintenance without checking for asbestos first may put you, your vendors, and any occupants' health at risk. If our team of experienced technicians determines that asbestos is hidden beneath the walls of your property, we'll conduct effective and comprehensive asbestos removal in Toronto.
The Risk of Asbestos-Related Illness
As a property manager, it's essential that every building you manage has risks identified and assessed. If asbestos is present and it becomes disturbed through renovations or maintenance, the microscopic fibres will easily become airborne. Once airborne, the fibres are inhaled and attach themselves to the lungs. Asbestos exposure leads to many health issues and illnesses, often appearing decades after inhalation. Health problems related to asbestos include mesothelioma, long-term respiratory issues, and in more severe cases, lung cancer. The only surefire way to avoid asbestos exposure is to undergo asbestos testing and removal to guarantee asbestos in your property is removed and safely disposed of.
Guide to Asbestos Removal Toronto
If you suspect that asbestos may be lingering in one of the properties you manage, you should quickly contact a professional restoration company. The trusted and certified specialists at Canada's Restoration Services will perform thorough asbestos inspections and removal services, ensuring that all traces of the hazardous material is eliminated from your property.