What Is Your Skin Telling You About Mold?
Posted in Mold Removal, on January 10, 2022
---
It's well known that a mold outbreak has the potential to cause structural damage, but mold exposure may cause numerous health problems. Without mold removal in Toronto, long standing, uninterrupted infestations may take a toll on the health of a property's occupants. If your property has recently been a victim of water damage, your skin can be a telltale indicator of a lingering mold problem. To be sure, and avoid further effects of mold on your property and health, contact Canada's Restoration services right away for a comprehensive mold inspection in Toronto.
Is your skin telling you something about mold? Read on to learn more.
Mold-Associated Skin Rash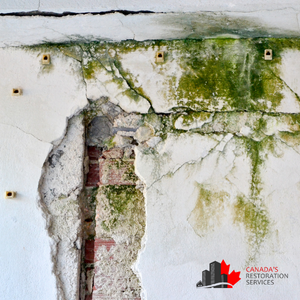 If you've been unknowingly exposed to mold, your skin might be a telltale sign of a mold infestation in your home. In summary, a mold-associated skin rash is caused by an allergic reaction to mold spores in your home. Although mold-associated rashes may look like other common rashes, they seemingly appear out of nowhere. Some signs of a skin rash from mold exposure may include itching, patches of dry and scaly skin, sensitivity, discolouration, and a bumpy texture. If you have toxic black mold in your home, you may face increased sensitivity and inflammation in your skin over an extended period. Further, those with weakened immune systems and skin sensitivity may be vulnerable to developing a rash due to mold exposure.
Treating Skin Related Mold Exposure Symptoms
If you experience what you may think is a mold-induced rash, it's a good idea to get allergy tested and schedule a mold inspection in Toronto. A mold inspection from our certified professionals will find all sources of mold in your home and implement a strategic and comprehensive plan of action for mold removal in your Toronto home. Once the infestation is eliminated from your home and you use antihistamines, you no longer should face skin-related mold exposure.
Other Symptoms of Long-Term Mold Exposure
The physiological symptoms of mold exposure don't stop at the skin. Common health indicators related to mold exposure include allergy-like symptoms, such as nasal congestion, wheezing, and consistent coughing. More severe symptoms may include migraines, light sensitivity, and chronic fatigue. It's best for mold removal in Toronto to be conducted before these severe symptoms present. To get an early start on mold remediation, schedule a complimentary mold inspection in Toronto with IICRC certified team at Canada's Restoration Services.
Prevent Mold Exposure With Mold Inspections in Toronto
To ensure your home — and your skin — are safe from mold infestations, keeping humidity low, and ventilation high are two key factors. Without the presence of moisture in your property, paired with constant fresh air flow from ventilation, the risk of mold in your home will be minimal.
If you've experienced an allergy to mold, like a rash, it's imperative to be diligent about mold in your home. If you smell the familiar yet unfortunate mold odour, contact Canada's Restoration Services for a mold inspection.
Our team will arrive quickly at the scene and perform a comprehensive and thorough mold inspection, ensuring that we've found all possible places of growth. In the instance that we encounter mold in your home, we'll effectively eliminate mold from your home and advise you on how to prevent mold growth from happening in the future.