What is the New Asbestos?
Posted in Asbestos Removal, on January 18, 2022
---
Throughout much of the 20th century, asbestos fibres were a common mineral used in the construction of both commercial and residential buildings. Thanks to its resistance to heat, its efficacy as an insulator and its cheap price, it isn't rare for professionals at Canada's Restoration Services conducting asbestos testing in Toronto to find asbestos-containing materials hidden behind the walls of properties that were developed between 1950 and 1980.
Despite its prevalence in buildings around the city today, the use of asbestos in construction began to fizzle out after it was banned in Canada in the early 1990s, as long-term health conditions such as cancer began being linked to exposure to the mineral. Asbestos removal in Toronto and throughout much of the country has been an on-going process spanning decades, which is a reflection of how much the construction industry relied on the mineral.
As dangerous as asbestos is, there also exists another naturally occurring substance found in construction work sites that poses similar hazards but is not commonly heard of: crystalline silica.
Asbestos Versus Crystalline Silica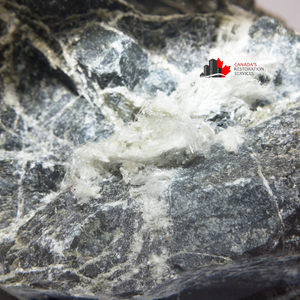 A basic component of sand, soil, granite cement and more, crystalline silica can be found on work sites that are in the business of cement, foundry or quarry. Similar to asbestos, crystalline silica can become dangerous when one is directly exposed to the compound.
Those who are at high risk of exposure to crystalline silica come from professions in cutting stone, manufacturing building materials or conducting sand blasting, with the most common illness from exposure being silicosis.
While both are used in construction, asbestos and materials containing the fibres are far more common in your home than crystalline silica. The fibres are commonly found in flooring, insulation, ceiling and roofing tiles which doesn't make for an easy abatement process. To be sure, conduct a trusted 3rd party for asbestos testing in Toronto.
Difference In Threat Levels
However, the difference between two naturally occurring substances is that asbestos fibres can be easily disturbed and can quickly become airborne, making them more susceptible to inhalation. Crystalline silica, on the other hand, are typically found in solid substances, and they only become a serious threat when those solids are processed and the silica compound is extracted, drifting into the air.
Another discrepancy in threat levels between the two is the harm caused by each. Asbestos fibres can cause significant harm just from minimal exposure, while illnesses linked to crystalline silica typically occur from high levels of exposure.
It's important to go through Canada's Restoration Services if you are looking to get asbestos removal in Toronto done. Experts will assess your home or the suspected asbestos-containing material to determine if abatement and replacement is required. Samples and providing them to a third-party lab for verification before moving towards a full removal process.
Getting Professional Help
The risk of exposure for both crystalline silica and asbestos fibres increases when the substances deteriorate into dust particles and go airborne, which is why dust control is crucial when conducting crystalline silica and asbestos removal in Toronto.
The team at Canada's Restoration Services are trusted and reliable asbestos abatement contractors that use high tech equipment like negative air pressure to clear the air. Following industry best practices and standards we ensure effective containment and removal of asbestos containing materials.
Contact us now to talk to an asbestos expert at Canada's Restoration Services today!