What is Secondary Asbestos Exposure?
Posted in Asbestos Removal, on January 19, 2022
---
Although the use of asbestos fibres in construction has been discontinued since the early 1990s, asbestos removal in Mississauga is still an ongoing process at many commercial and residential buildings, as regular asbestos testing in Mississauga continues to find the mineral lingering in said buildings that were primarily built between 1950 and 1980.
With more people working on do-it-yourself renovations, maintenance, and other home projects, asbestos exposure can be an unexpected side effect. To mitigate these effects and long-term illness, asbestos testing in Mississauga should always be conducted prior to constructions and asbestos removal in Mississauga.
Asbestos fibres can be easily disturbed by minimal contact, sending microscopic fibres into the air, increasing the chances of inhalation, and raising the risk of developing an asbestos related illness. And while the asbestos present on your property may not seem like an immediate threat, it's still recommended that you can consult with experts in asbestos testing in Mississauga to evaluate the level of hazard that it presents.
What Is Secondary Asbestos Exposure?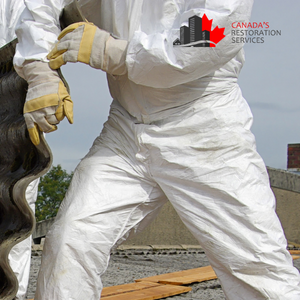 Being exposed to asbestos can result in a number of long-term health conditions, with the one of the more serious cases being mesothelioma, a type of cancer that can form in the lungs as a result of inhaling the mineral.
While asbestos-related illnesses are commonly a result of direct exposure to the mineral, secondary asbestos exposure can be just as harmful. Secondhand exposure occurs when fibres of the mineral are attached to clothing and hair of someone who is exposed. This was more common with workers from construction sites and factories unknowingly bringing home asbestos fibres from jobs.
To avoid secondhand exposure, the technicians at Canada's Restoration Services wear protective clothing including gloves, masks, and respiratory protection all of which are disposable. This ensures the outer layer of clothing exposed to airborne fibres are not transmitted to another location. We also seal off contaminated rooms to stop the spread of asbestos fibres to unmonitored areas.
Dealing With Asbestos
While it was more common in the 20th Century, secondary asbestos is not a thing of the past.The threat of asbestos fibres remains the same. If you fear that asbestos may be present on your property, contact Canada's Restoration Services, as part of our asbestos testing in Mississauga procedure includes a thorough inspection of your property. We take samples of any asbestos-containing materials and send them to a third-party lab for testing, where they identify what type of asbestos is present and the level of danger that it presents.
Following testing and verification, we move towards a full-scale operation of asbestos removal in Mississauga. The material in question is sprayed with a binding agent to prevent the fibres from going airborne, then proceed to place that hardened plaster in sealed hazard bags. Throughout the entire process, air scrubbing machines equipped with HEPA filtration systems are in operation to keep the air clean.
Contact us now to talk to an expert in asbestos at Canada's Restoration Services today!