What is Causing Repeat Mold Outbreaks in Vancouver?
Posted in Mold Removal, on November 15, 2021
---
Mold occurs naturally, often making it quite difficult to prevent without expert intervention. Mold spores constantly circulate the air, and with the right conditions, mold may grow back in your home, resulting in tedious and costly repeat mold removal in Vancouver.
Upon discovering mold, professional mold removal in Vancouver should begin promptly due to the potential health risks and structural effects it has on your home. While all types of mold require immediate and professional attention, there's an even greater sense of urgency regarding black mold removal. Contact Canada's Restoration Services, where we can effectively eliminate mold in your home and advise you on how to prevent future infestations.
If your property has fallen victim to repeat mold infestations and you aren't sure why, continue reading.
DIY Mold Removal in Vancouver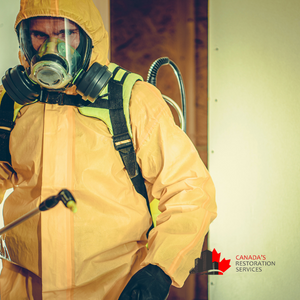 While it may seem cost-effective and easy to get rid of mold using a swipe of paper towel and bleach, it isn't a long term solution nor is it safe. In the instances where you try to get rid of mold on your own, whether it be with bleach, boiling water, or a vinegar mix, the chances of mold growing back are higher. If mold removal in Vancouver isn't conducted by a professional, the area likely isn't fully isolated, allowing mold spores to travel and distribute through your home. In cases of black mold removal in Vancouver, the enhanced threat demands professional attention.
Excessive Moisture and Humidity
Moisture is an essential player in mold growth; if your property has high levels of humidity, mold will likely grow frequently. Excess moistures is often a result of misplaced water. It can be as minor as a wet umbrella or from an unsealed window. To keep humidity levels low, a dehumidifier is always a good investment, as is a hygrometer to get an idea of how much humidity is in your home. If your home is noticeably humid, there's a strong chance that not only allergenic mold will grow but also toxic black mold. If black mold is discovered, contact Canada's Restoration Services immediately for black mold removal.
Poor Ventilation
Aside from humid environments, ventilation and lack of airflow is a big part of a recurring mold problem. Stale and stagnant air promotes rapid mold growth, so it's imperative to keep windows open to let fresh air into your home. Other rooms in your home, like bathrooms, are naturally humid environments generally with poor ventilation, so it's critical to keep ventilation consistent to prevent your bathroom from becoming a hotbed for mold growth. Additionally, appliances that produce moisture, like a dryer, should have proper ventilation to avoid moisture buildup and potential mold outbreaks.
Organic Food Sources
Mold feeds off of organic matter such as fruit, plants, fabric, wood, drywall or even cardboard. If you notice mold growing on your walls, make a quick call to a local remediation service since there are tons of organic food sources for molds to choose from. At Canada's Restoration Services, we will identify the scope of a mold outbreak, and assess the most vulnerable areas of your property.
Contact A Professional
The best way to prevent another mold infestation is to completely eradicate it with professional mold removal from Canada's Restoration Services and to keep your home well ventilated. Our team of certified professionals conducts safe and comprehensive mold remediation services, and we can provide instant recommendations on how to keep mold at bay.
Schedule a mold inspection in Vancouver today.